Pogledajte sliku, i ne razmišljajući dugo, odaberite drvo koje vam je najprivlačnije.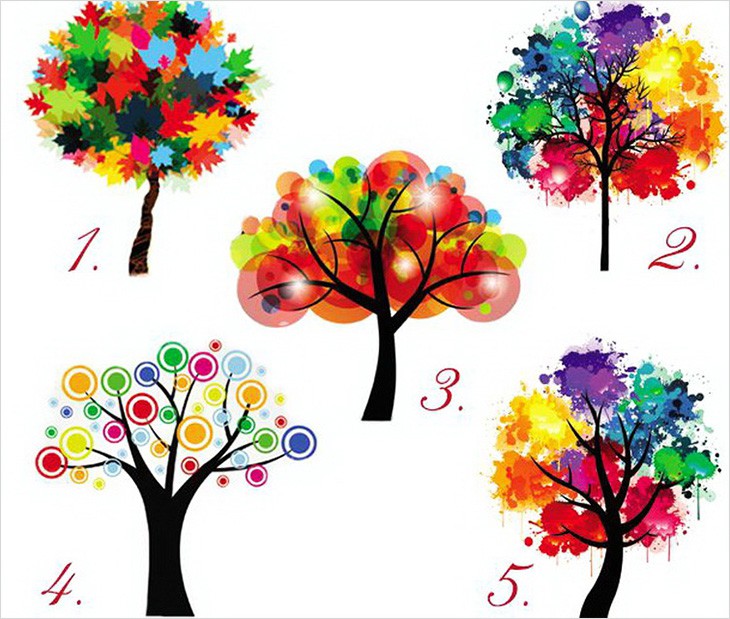 Dakle, izabrali ste?
Evo, šta odabrano drvo govori o vama
Drvo 1.
Ovo drvo najčešće biraju ljudi koji trenutno nisu zadovoljni svojim životom, i žele ga promeniti nabolje. "Negde tamo postoji sreća, ali mene tamo nema. Znači, moram biti tamo!" To je njihov životni moto. Osnovne osobine ljudi koji su odabrali ovo drvo su – hrabrost, radoznalost i interes za sve novo. Oni su željni promena. Upijaju svim srcem nova znanja i iskustva. Ljudi retko ostaju u ovoj fazi. Obično, nakon izbora novog puta, oni biraju drugo drvo.
Drvo 2.
Strpljivi i uporni. Oni nikad neće odmahnuti rukom na početku puta. Ići će ka zacrtanom cilju, korak po korak. Neće skrenuti sa puta. U svojoj sferi, oni su pravi profesionalci. Pri tome, u svojoj metodičnosti, mogu ličiti na pravu mašinu radilicu. Kod reči "improvizacija", videćemo njihov skeptičan izraz lica. Ovi ljudi su sigurni da je život dobar, kada sve ide po planu. Ove pristalice stabilnosti, verni su jednom odabranom redosledu stvari. Sve rade prema logici, i ne prihvataju lako iznenađenja i inovacije. Ne sviđaju im se bilo kakve promene, pogotovo one, koje narušavaju njihove logičke konstrukcije.
Drvo 3.
Ličnosti- kreativne i originalne. Ne koračaju istim putevima, ne obraćaju pažnju na već postojeće šablone. Inspirativne su, žele sve raditi po svome, pronalazeći nove poteze u ovoj, ili onoj oblasti. Obično su harizmatične i šarmantne. Originalne u odevanju. Lako ih je izvesti iz takta, a raspoloženje menjaju češće, nego stope na berzi. To su veliki govornici, spremni da  dele svoje ideje sa svima koji to žele. I sa onima koji ne žele, takođe…
Drvo 4.
I zimi i leti isti su! Nezavisno od vremenskih uslova, ovi ljudi uvek dočekuju dan u "žutoj majici lidera". To su neumorni pokretači ideja i akcija. Ambiciozni i pragmatični. Sposobni su ubediti rukovodstvo da su nezamenljivi. Znaju šta žele i kako će to postići. Kao pravilo, oni veruju da u svetu postoje samo dve tačke gledišta: ona koj nije ispravna, i njihova subjektivna. Jake su ličnosti, iskreni prijatelji i opasni protivnici. Očigledno da u njihovoj krvi, još od  detinjstva cirkuliše duh rivalstva.
Drvo 5.
Ovi ljudi imaju posebnu sposobnost empatije. Duboko su saosećajni. Lako se stavljaju u poziciju druge osobe, užive se u emocije drugih ljudi, i zajedno sa njima dele njihove radosti i nevolje. Dobri su i emotivni, mogu da osećaju ovaj svet kao niko drugi. Za sreću im nije dovoljna samo lična dobrobit. Harmonija u životu ovih ljudi nastaje tada, kada su srećni svi oko njih. Ne vole konflikte, odlično rešavaju nesporazume. U 99% slučajeva, oni prvi čine ustupke.