Boris i Arkadij Strugacki, najpopularnija "književna" braća, nisu samo pisci naučne fantastike. U svojim romanima o budućnosti, o svetu uopšte i čoveku, kao pojedincu, oni su odgovarali na večna pitanja: kako napraviti pravi izbor, pronaći sebe i ne izgubiti se u ovom beskonačnom svetu.
Braća Strugacki su dugi niz godina ostali vodeći predstavnici sovjetske fantastike. Svaka nova knjiga je bila događaj, izazivala žive i kontroverzne rasprave.
Boris Strugacki je umeo da se našali na svoj račun: "Ja sam samo pola pisca," imajući u vidu da tek zajedno, sa svojim bratom, Arkadijem Natanovičem,  oni čine jednu kreativnu celinu. Njihovi romani su prepuni najdubljih i filozofskih misli:
♦ U 83% slučajeva svi dani u godini otpočinju identično: zvonjavom budilnika.
♦ Nedeljama iscrpljujemo dušu otužnim naklapanjima, a kad sretnemo pravog čoveka, nemamo vremena da s njim popričamo.
♦ Decu ne treba tući. Ona će ionako celog života biti ćuškana od svih odreda. Ako baš želiš nekog da udariš, bolje zvekni sebe po njušci, biće ti mnogo korisnije.
♦ Sve je u najboljem redu: ljudima je potreban novac radi toga da nikad ne bi morali da razmišljaju o njemu.
♦ Muve zamišljaju da lete dok udaraju o staklo, a ja zamišljam da hodam samo zato što pokrećem noge.
♦ Ako u ime ideala čovek mora da čini podlosti, onda je vrednost takvog ideala – govno.
♦ Vučica kaže mladuncima: "Grizite, kao ja!", i to je dovoljno, a zečica mlade uči ovako: "Bežite kao ja!", i to je takođe dovoljno, dok čovek svoje dete uči ovako: "Razmišljaj kao ja!", a to je već zločin.
♦ Zašto ne zaćutati kada je sve jasno i bez reči?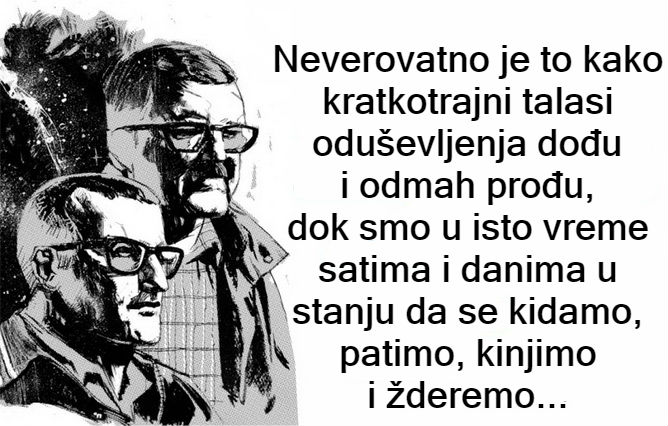 ♦ Bolje je dvadeset puta prevariti se u nekoj osobi nego biti sumnjičav prema svima.
♦ U čemu je smisao kupovine automobila da bismo jurcali asfaltom? Tamo gde je asfalt nema ničeg zanimljivog, a tamo gde je zanimljivo nema asfalta.
♦ Fantazija je od neprocenjive vrednosti, ali joj ne treba utabavati unutrašnje puteve, već isključivo spoljašnje.
♦ Skepticizam i cinizam su jeftini zato što je to mnogo lakše i prosečnije, nego se diviti i uživati u životu.
♦ Niko od njih nije tačno znao šta je sreća i u čemu se krije smisao života. Na kraju su izglasali radnu hipotezu da se sreća sastoji u stalnom otkrivanju nepoznatog, kao i da se smisao života zaključuje u istom.
♦ Šta je potreba? Kada ne možete bez. Kada sve vreme razmišljate o. Kada ceo život težite ka.
♦ To je nešto poput demokratskih izbora: većina je uvek za ološ.
♦ Kakav je smisao govoriti o budućnosti? O budućnosti se ne govori, već se ona stvara!
♦ Tamo gde trijumfuje prosečnost, na vlast uvek dolaze budale.
♦ Nemoguće je među hiljadama puteva ne pronaći onaj pravi!
♦ Istorija čovečanstva se neće okončati u prasku kosmičke katastrofe, u plamenu atomskog rata, ili ugušena prenaseljenošću, već u sitosti i spokojnoj tišini.
♦ Na svetu ne postoji ništa što se ne može ispraviti.
♦ Nije svakome dato da bude dobar. Radi se o istom talentu kao što je muzički sluh ili vidovitost, samo što je još ređi.
♦ Sreća je kad hoćeš ono što možeš i možeš ono što hoćeš.
♦ Ponekad se zapitam zašto toliko bezglavo jurimo? Da bismo zaradili novac? Ali koji će nam đavo novac kad neprestano jurimo?
♦ Nek je sve prokleto kad ništa drugo ne mogu da smislim sem ovih reči: SREĆA JE ZA SVE BESPLATNA I NIKO NE TREBA BUDE UVREĐEN!