Ovo je test koji može reći mnogo o vama. Sve je jednostavno. Pogledajte svoje nokte i pokušajte uočiti njihov oblik – pomoći će vam slika ispod. Ako ne možete pronaći svoj tip, izaberite onaj na koji najviše liče.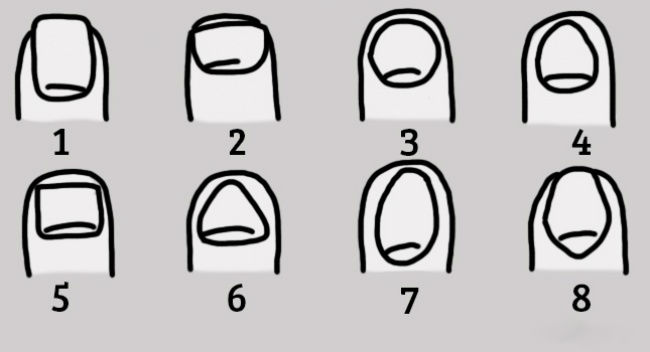 1. Dugački, pravougaonog oblika.
Ako imate takve nokte najverovatnije ste veoma društvena i komunikativna osoba, koja  između ostalog poseduje oštar um. Vi pronalazite zadovoljstvo u novim poznanstvima i radujete se novom iskustvu, takođe, uvek pokušavate da proširite svoje horizonte.
Kada je u pitanju neki posao, vaš glavni moto je: "Tri put meri, jednom seci". Proučavate pitanje sa svih strana, i birate optimalno rešenje. Bitno je sve dobro promisliti, do najsitnijih detalja.
2. Široki, pljosnati.
Vi ste osoba sa jasnim umom, koja analizira sve i svakoga. Mislite pre nego što progovorite, i ljudi vam se često obraćaju za savet, pažljivo slušaju vaše mišljenje. Odlično se razumete u karakter ljudi, i na vaš instinkt se  uvek može osloniti.
Volite da stvarate uvek nešto novo, znajući da će se  rad svakako isplatiti kasnije. Pre svega vas zanima praktičnost i korisnost, zato volite da pronalazite pametna rešenja za složene probleme.
3. Kratki i okrugli.
Velika šansa je  da ste energična, kreativna osoba sa velikim (moguće sakrivenim) talentom. Zračite radošću i pozitivom, prema tome ljudi rado kontaktiraju sa vama. Novom prijatelju ostajete verni ceo život, i radite sve da zaštitite ljude koje volite.
Postoji nekoliko stvari koje volite najviše na svetu. Avanturističkog ste duha, i ako nešto zamislite, nećete odstupiti dok ne  dobijete ono što želite. Neko kaže da ste malo tvrdoglavi, ali vi znate šta želite!

4. Neravni i kratki.
Moguće je da su neravni zato što ih često grickate? Onda ste verovatno veoma osetljiva i pronicljiva osoba. Negujete postojeće odnose sa ljudima, i pažljivo razmišljate o novim poznanstvima. O takvima kao što ste vi, kažu: "Tiha voda breg roni".
Možete spolja izgledati mirno, a unutar vas može biti bura emocija. Vaši prijatelji znaju da od vas mogu da čuju samo istinu, čak i onu gorku.
5. Veliki, pravougaoni
Veoma ste vredna osoba i rođeni lider koji svim poslovima prilazi sa velikom odgovornošću. Vama poveravaju važne sastanke, zato što svi znaju da mogu računati na vas. Kada vi nešto radite – to radite ispravno. Međutim, vi niste samo uporan i vredan covek, u duši ste veseljak koji voli dobro društvo.
6. Trouglasti
Vi ste hrabar i odlučan čovek, koji uvek zna šta hoće. Sa velikom strašću prihvatate se bilo kakvog zadatka. Kada je u pitanju posao, vaš moto je: "Radi lako, ne troši puno truda" s obzirom na to da uvek razmišljate o poslu, pre nego što ga započnete. Vaš naporan rad uvek se isplati, i na kraju izgleda fenomenalno.
7. Ovalni i dugački.
Ako su vaši nokti ovalnog oblika, onda ste vi  najverovatnije kreativna osoba. Imate dobru maštu, i srećni ste  ako ste okruženi lepim stvarima. Ljudi vam se priklanjaju, posebno kad u njihovim dušima besni okean emocija, da bi  pronašli pristanište u vašoj mirnoj i tihoj luci.
Neki kažu da uzimate na sebe previše, ali u stvari,  rad vas čini srećnim, posebno kada donosi korist drugima. To znači da ste pravi  čovek, koji izbegava reč "uobičajeno", kao neku vrstu kuge. Uvek pronalazite inovativna rešenja. Vaš moto: "Ako radite – onda radite, ako odmarate – onda odmarate". Umete biti  zadovoljni, i što god radite, nikada vam nije dosadno.
Napomena: Zapamtite da je svaka osoba jedinstvena i originalna sama po sebi,  a ovo je jednostavno, slatki pokušaj klasifikacije.