Zamislite želju i izaberite jedan od plodova na drvetu.
Ispod drveta ćete pronaći odgovor, i saznaćete da li će se ostvariti vaša želja.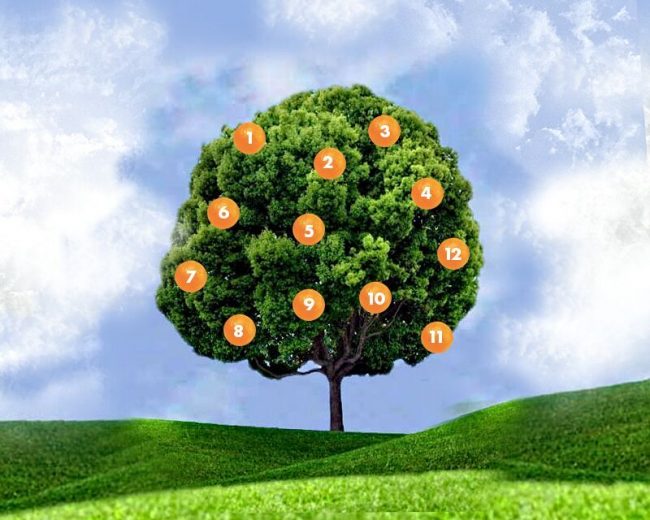 1. Imate adekvatno samopouzdanje i samouverenost.Vaša želja će se obavezno ostvariti, zato što ćete dati sve od sebe da taj san postane java.
2. Vi ste energična osoba, sigurna u sebe. Ne verujete baš u ono da će biti tako kako je "suđeno", već u ono da ste vi sami kreator svog života, i spremni ste da sve učinite da ostvarite svoje ciljeve i svoje želje. Ovo se odnosi na sve, čak i na naizgled, nemogućih želje. Vi to možete!
3. Vi ste tip ljudi koji su navikli živeti i delovati u zavisnosti od okolnosti. Nažalost, često odlučujete "ploviti niz vodu ", ne pokušavajući menjati svoju sudbinu, iako ste sposobni to učiniti. Pokušajte da se više orijentišete na cilj, da verujete u sebe i svoje mogućnosti – i onda se, sve željeno, može i ostvariti.
4. Veoma ste zahtevna osoba, i prema okolini i prema sebi. Ako ste nešto naumili, ne popuštate, ne odustajete i svom snagom krčite put ka ostvarenju svog cilja. Ne odustajte, krećete se u pravom smeru.
5. Vaša prirodna impulsivnost često vam smeta u postizanju željenog. Ne požurujte sebe i druge, napravite udah i izdah. Vaša želja će se sigurno ispuniti ako popustite stisak.
6. U životu ste veoma srećna osoba. Ali, ponekad ste lenji. Da biste ostvarili svoju želju, počnite da se krećete u pravcu njenog ispunjenja.
7. Vaša želja će se ostvariti, ali potrebno je vremena. Budite strpljivi.
8. Izgeda da ste stalno fokusirani na svoju želju. "Zaboravite" na nju, prestanite stalno razmišljati o tome, jednostavno "otpustite" svoju želju, i videćete da rezultat nećete dugo čekati.
9. Vaša želja će se uskoro ostvariti. Velika je verovatnoća da ćete se posle toga zapitati: "Da li mi je to, uopšte, trebalo?"
10. Budite skromniji u svojim željama. Možda tražite previše? Zamolite Univerzum za ispunjenje skromnije želje, i ona će se obavezno ostvariti.
11. Vaša želja je još uvek neostvarena samo iz jednog razloga: niste uložili nikakv napor za njeno ostvarenje.
12. Vaša želje je skoro ispunjena!