Postoje žene koje naizgled uopšte ne stare. Ima žena koje sa preko 35 izgledaju kao da im je tek 20. To u Japanu to nazivaju veštičjom lepotom, ali daleko od toga da njih ima samo među Azijatkinjama.
Femina vam je pripremila priču o takvim ženama.
Liju Jelin (Lu Yelin), 55 godina
Kineskinja Liju Jelin je bibliotekarka, za koju često pomisle da je svom sinu devojka, a ne majka. Nije ni čudo, sa tako zategnutim telom i bez ijedne bore.
Njena tajna: Već skoro 30 godina, Liju svakoga dana pliva u jezeru (i leti i zimi!) i diže tegove. Preplivala je reke Jangce u Kini i Hangan u Južnoj Koreji. Sanja o tome da prepliva more i ostane lepa i u osamdesetoj. Liju uopšte ne koristi kozmetiku.
Risa Hirako (Risa Hirako), 50 godina

Japanska manekenka i pevačica Risa na slikama izgleda neverovatno mladoliko, iako tvrdi da njene fotografije uopšte nisu retuširane.
U čemu je njena tajna: Risa koristi samo kozmetiku od prirodnih sastojaka i jede zdravu hranu – voli med, banane i čokoladu. U Japanu ima mnogo dugovečnih ljudi, a jedan od razloga su navike u ishrani: Japanci jedu manje mesa, masti i šećera od žitelja drugih razvijenih zemalja.
Pamela Džejkobs , 60 godina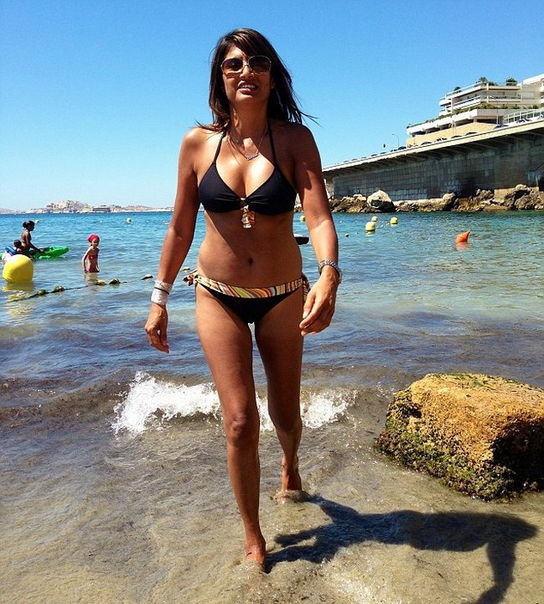 Ovu Amerikanku smatraju najstarijom bodibilderkom na svetu, a započela je kao i mnoge žene – Ernestini se nije sviđao sopstveni odraz u ogledalu. Zato je počela da trenira i čvrsto rešila da ne odustane. Postigla je izvanredne rezultate, iako je počela dosta posle pedesete.
U čemu je njena tajna: Ernestina ne koristi suplemente, nedeljno istrči oko 130 km i odlazi u teretanu. Unosi oko 1700 kalorija na dan, a na njenom meniju su uglavnom kuvana belanca, piletina i povrće.
Misako Mizutani (Masako Mizutani), 54 godina
Misako je nekada bila manekenka, a sada je majka dvoje dece. Više ne radi, ali ima svoj blog u kome daje savete kako se treba negovati. U njenoj domovini Japanu, zovu je Večno mladom damom.
Kristi Brinkli (Christie Brinkley), 67 godina
Kristi Brinkli je američka manekenka, aktivistkinja, glumica i fotograf. Počela je da radi kao fotomodel još 70-ih i nastavila sve do danas.
Njena tajna je sledeća: Kristi svakog jutra pije toplu vodu s limunom, medom i ljutom paprikom. Ne jede meso, ali uzima više malih obroka u toku dana. Za večeru dopusti sebi čašu crnog vina.
Kristi tvrdi da nikada nije imala plastičnu operaciju, ali često pribegava neinvazivnim tretmanima. Svakoga dana uradi sto sklekova, trči, bavi se fitnesom i jogom, a voli i ekstremne sportove.
Vendi Ida (Wendy Ida), 68 godina
Vendi nije uvek ovako izgledala – počela je da vežba tek posle četrdesete. Imala je loš posao, muškarca koji joj je ubijao samopoštovanje i patila od viška kilograma. To što danas spada u najpoznatije fitnes gurue Amerike, potvrda je da nikad nije kasno da se promenite!
Njena tajna je u sledećem: Vendi je imala dovoljno upornosti i strpljenja da sprovede ono što je započela. Drži dijetu sa mnogo belančevina, voća i povrća. Diže tegove i radi kardio vežbe.
Dženifer Tili (Jennifer Tilly), 62 godine
Dženifer Tili je poznata holivudska glumica, koja zadivljuje svet svojom prirodnom lepotom. Zahvaljujući svom neobičnom glasu, često pozajmljuje glasove crtanim junacima. Daje glas drugarici krvoločne lutke Čaki.
Njena tajna: Dženifer u šali kaže da tajne nema – ona jednostavno koristi filtere prilikom slikanja. Živi punim plućima i profesionalno igra poker. Uopšte nije mršava, ali to je ne sprečava da izgleda mnogo mlađa nego što jeste.
Kendi Lo (Candy Lo), 46 godina
Ova manekenka i pevačica iz Hong Konga kao da uopšte ne namerava da ostari. Po njenoj savršenoj figuri se uopšte ne bi reklo da je majka trojice sinova.
U čemu je njena tajna: Kendi veruje da za svoju lepotu može da zahvali nasleđu i zdravom životu. Osim toga, ona par sati dnevno trenira i najmanje 40 minuta posvećuje nezi lica.
Žaklina (Zaklina), 52 godine
Srpkinji Žaklini mnoge 25-godišnje devojke mogu da pozavide na figuri. Mnogo putuje i postavlja na Instagram svoje fotografije u elegantnoj odeći. Međutim, nije sve u njenom životu tako ružičasto.
Pre četiri godine, poginuo joj je sin Stefan. Žaklina sa puno pozitivne energije brine o svoje dve unuke i smatraju je najseksipilnijom bakom Instagrama.
Njena tajna: Misteriozna Žaklina ne otkriva svoje tajne. Ona kaže da svojim blogom podstiče žene da ne skrivaju svoju senzualnost i shvate kako mogu izgledati sjajno u bilo kom životnom dobu.
Ažda Pekan , 71 godina
 

 

View this post on Instagram

 
 

 

View this post on Instagram

 
Teško je poverovati, ali turska pevačica Ažda Pekan ima 71 godinu. Ona ne skriva da je imala pomoć plastičnih hirurga, ali i podvlači da je uvek posvećivala pažnju sportu i ishrani. Bez obzira na godine Pekan ostaje u odličnoj formi, često nastupa i osvaja vrhove top-lista u zemlji.
Ovi ljudi su dokazali da su godine samo cifra u krštenici. Zdravlje, mladost i lepota su u našim rukama, bez obzira na to koliko imamo godina.
Šeron Hsu (Sharon Hsu), 40 godina
Svet ne bi saznao za večno mladu Lur Hsu, da nije bilo njene sestre, glumice Šeron Hsu, koja je jednom dovela svoju sestru na tok šou. Šeron ima 36, ali joj niko ne bi dao toliko.
U čemu je njena tajna: Kao i njena sestra, Šeron živi zdravo i jede mnogo povrća, zbog čega je uvek u odličnoj formi.
Dve sestre imaju i treću – Fajfaj (u sredini) kojoj je 43 godine
I majku (u sredini), koja ima 66 godina