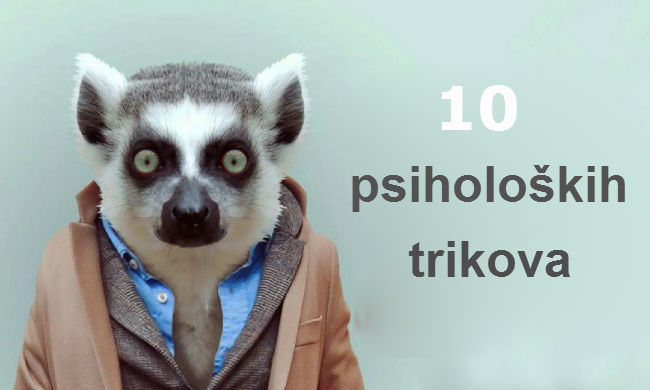 Ljudski mozak – još nije u potpunosti proučen mehanizam, i ne prestajemo mu se diviti, čak i u eri mobilnih telefona i superbrzih svemirskih brodova. Ponekad, jednostavan gest, reč ili fraza, mogu uticati na sagovornika više, nego 10 tomova najpametnijih knjiga.
Koristeći ove jednostavne tehnike, uverićete se koliko je čovek predvidiv, čak ako i zamišlja sebe da je centar sveta.
Za psihologiju- svi su jednaki!
1. Papir, bunar, makaze.
Ako želite pobediti u "Papir, bunar, makaze", postavite bilo koje pitanje svom suparniku. Odmah, čim ga upitate nešto, počnite govoriti: "Papir, bunar, makaze". U većini slučajeva, igrači ne razmišljajući, "izbacuju" "makaze". Proverite!
2. Smeh.
Kada se smeje grupa ljudi, svaki instinktivno gleda na onoga ko je njemu najsimpatičniji, ili na na onoga kojeg bi želeo imati u svojoj blizini.
3. Ponavljanje je majka učenja.
Za vreme razgovora izaberite bilo koje slovo iz reči, i svaki put, kada sagovornik bude ponavljao tu reč ili neku njoj po značenju blisku, klimajte glavom, osmehujte se ili koristiti bilo koji potvrđujući gest. Videćete: ta reč će se ponavljati, ponovo i ponovo.
4. Pokvarena ploča.
U vašoj glavi stalno se vrti jedna te ista pesma, koju biste želeli da zaboravite. Mislite na njen završetak. Prema jednoj teoriji, svest čoveka poseduje svojstvo odvojiti se od nezavršenih stvari. Razmisljanja o kraju pesme pomoći će da je  izbacite iz glave.
5. Šesto čulo.
Imali ste nekada osećaj da vas u nekom društvu neko posmatra, ali ne znate ko? Pokušajte zevnuti, i pogledajte na svog zamišljenog posmatrača. Ako je neko u tom društvu zevnuo, to je sigurno taj. Zevanje je zarazno.
6. Roditeljski autoritet.
Ako želite da vas ljudi shvataju ozbiljno, recite im da je taj predlog dao vaš otac. Ljudi su u većoj meri skloni verovati roditeljskim savetima.
7. Sakrivena manipulacija.
Ako želite da vam prijatelj pomogne nositi neki tvoj prtljag, neprimetno mu dodajte torbu za vreme živog  razgovora. Većina ljudi uzeće torbu, bez razmišljanja.
8. Snaga klimanja glavom.
Ako nekoga za nešto  molite, pokušajte to uraditi tako, da se čovek saglasi sa vama, uz pomoć jednostavnog klimanja glavom. Ovo gest nesvesno tera ljude da se saglase sa vama.
9. Iluzija izbora.
Ako želite da vaše dete pojede brokoli ili karfiol, recimo, upitajte ga koliko cvetova želi da pojede: 2 ii 5? Na taj način ne lišavate ga mogućnosti slobode izbora, mada je izbor, u stvari,  već napravljen. Ovak trik možete primenjivati i u drugim sferama života.
10. Kako izbeći neprijatnosti.
Ako mislite da na poslovnom sastanku neko od kolega želi da vas predstavi u ne baš najboljem svetlu, sedite pored tog čoveka. Niko neće polivati blatom onoga, koji se nalazi pored.
Čitajte još:  20 jednostavnih psiholoških tehnika koje zaista rade