Ovsene pahuljice sadrže kalijum, natrijum, kalcijum, gvožđe, magnezijum, cink, fosfor, vitamine B1, B2, E.. i to nije sav spisak korisnih sastojaka ovsenih pahuljica. Ali, ovsene pahuljice nisu samo korisne za konzumiranje (odlične su za čišćenje creva od toksina), nego su  i veoma pogodne za korišćenje u kozmetičke svrhe.
Svakodnevno umivanje ovsenim pahuljicama pomaže da se ukloni ne samo masni sjaj kože, akne i sitne bore. Učiniće vašu kožu glatkom i baršunastom.
Da biste to uradile, biće neophodno uzeti šaku ovsenih pahuljica (možete ih malo isitniti).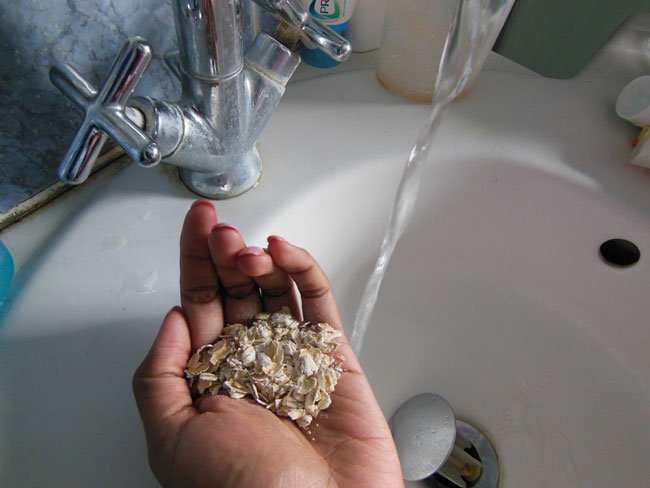 Staviti šaku pod  tekuću vodu i tako držati dvadesetak sekundi. Ili ih  potopite  prethodno, na par minuta, u neku šolju sa vodom.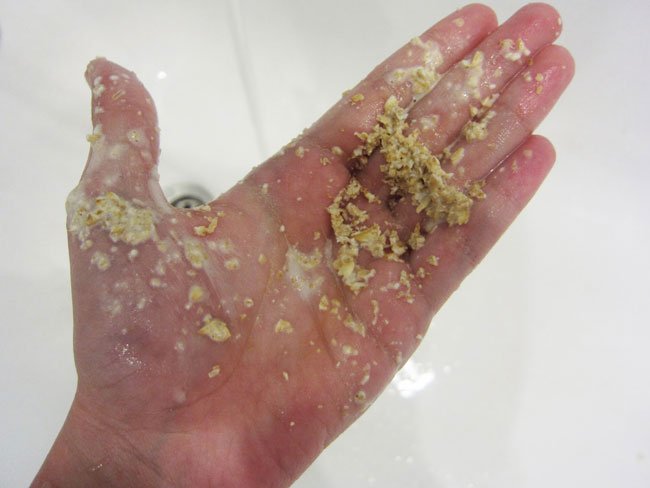 Nakon toga, vrlo nežno, bez grebanja kože, 2-3 minute utrljavati u kožu lica i vrata. Područje oko očiju samo namazati, ne utrljavati. Posle, isperite pahuljice vodom, umijte se i dalje koristite kremu ili tonik koji obično koristite.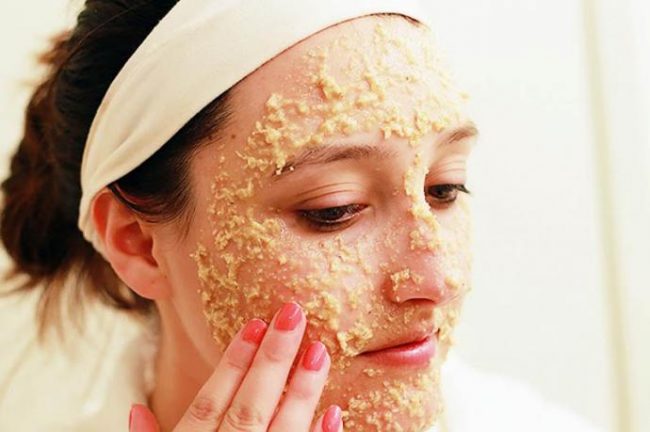 Lako i jednostavno. Zar ne? Ubrzo ćete uočiti značajan efekat  takvog, svakodnevnog, umivanja.
Ali, ako imate problematičnu kožu, nećete odjednom videti čudo. Ovsene pahuljice će uspeti da izleče sve probleme sa kožom – akne, mitesere, bubuljice, infekcije.., ali početni  efekti mogu biti praćeni svrabom, ljuštenjem, perutanjem kože, povećanjem broja već postojećih bubuljica.
Nema razloga da se plašite. Koža mora da se iščisti. U ovom slučaju nikako nemojte prekidati svakodnevni tretman umivanja. Čudo će se desiti, ali malo kasnije.
Uzgred, ovsene pahuljice su  savršena zamena za sredstvo za umivanje i skidanje šminke (naravno, ako niste imali na licu "ratničke boje").
Ako ovsenim pahuljicama, jednom nedeljno, dodate 1 kašičicu smeđeg šećera, dobićete odličan piling kože lica. Samo nemojte koristiti one "instant" pahuljice, od njih je malo koristi.
Ne zaboravite na dno lavaboa staviti bilo šta što će sprečiti pahuljice da začepe odvod.
Samo da napomenemo još jednom: nakon tretmana, umivanja ovsenim pahuljicama, može doći do crvenila i blage iritacije kože. Ali, to je samo privremeno. Nakon nekoliko dana koža će se očistiti, postaće glatka, nežna i baršunasta.
Za lepši izgled kože preporučuje se podmlađujuća maska za lice sa ovsenim pahuljicama i čišćenje creva sa ovsenim pahuljicama.
Budite lepe!