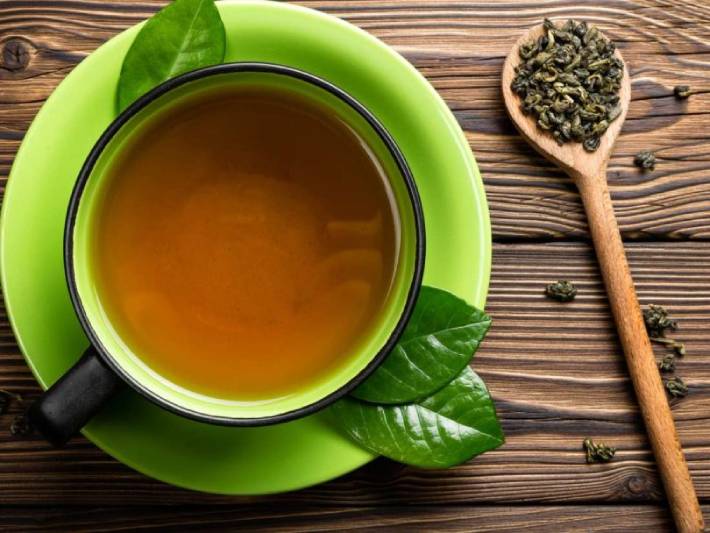 U Kini je u upotrebi više od 5000 godina, a poznata je i stara kineska poslovica da je "bolje 3 dana bez hrane, nego 1 bez čaja".
Zima je idealno vreme da počnete "terapiju" čajevima i tinkturama za detoksikaciju organizma, koje možete piti sve do proleća, kako biste došli do toga da telo apsorbira lekovite materije iz bilja i počne davati učinak.
Naučnici su do danas otkrili više od 300 sastavnica zelenog čaja, od kojih neke imaju vrlo lekovita svojstva, pa se neretko preporučuje i kao čaj koji pomaže u prevenciji niza zdravstvenih problema.
♦ Zeleni čaj pomaže prilikom mršavljenja – uz redovno ispijanje možemo izgubiti jedan kilogram mesečno. On je prirodni antioksidans koji reguliše probavu, topi masne naslage i razbuđuje organizam.
♦ Zeleni čaj možete da konzumirate sa limunom ili da ga mešate sa drugim aromatičnim biljem radi neutralizacije gorkog ukusa. Istraživanje u kojem je promatrano preko 40.000 ljudi, pokazalo je kako zeleni čaj može smanjiti rizik od kardiovaskularnih bolesti gotovo za četvrtinu, smanjuje rizik i od drugih oboljenja, a na taj način produžuje životni vek.
♦ Razgrađuje masne naslage
Ako ste pojeli previše masne ili slatke hrane, šoljica zelenog čaja smanjuje štetne posledice kaloričnog obroka. Za to je pre svega zaslužan katehin koji podstiče razgradnju neželjenih masnih naslaga.
♦ Ubrzava metabolizam
Kalorije se brže troše uz zeleni čaj. Istraživanja su pokazala da osobe koje redovno piju zeleni čaj dnevno potroše 6% više kalorija od osoba koje ga ne konzumiraju. Drugim rečima, ako dnevno unosimo oko 2300 kalorija, 138 možemo anulirati uz zeleni čaj.
♦ Smanjuje glad
Zeleni čaj nivo insulina drži pod kontrolom, što znači da je i nivo šećera u krvi stabilan pa organizam traži manje slatkiša. Glad smanjuje i ugodna toplina čaja.
♦ Celulit i izdržljivost
Kako je zeleni čaj antioksidans koji podstiče izlučivanje štetnih materija, a kožu čini glatkom i čvrstom, pomaže i u smanjenju celulita. Proces je posebno delotvoran u kombinaciji s fizičkim aktivnostima. Takođe, zeleni čaj povećava izdržljivost za 25%.
♦ Prva pomoć za probavu
Ako vas muče probavni problemi, popijte veliku šolju zelenog čaja s nekoliko kapi limuna. Čaj je koristan i u slučaju zatvora.
Najbolje ga je piti sveže pripremljenog
Zeleni čaj, kao i većina čajeva, ne sme se pripremati s kipućom vodom već vodom koja je zagrejana na 60-70°C, dakle malo pre ključanja. Najveću korist od zelenog čaja imaćete ako pijete tek pripremljeni čaj, koji je odstajao između tri i pet minuta.Bolje ga je piti s malo limuna jer velike količine čaja mogu zaustaviti upijanje gvožđa iz voća i povrća, a vitamin C to sprečava.
Preporučujemo: Dijeta sa zelenim čajem i mlekom.  Mrsavite brzo, efikasno i rezultativno!