Idealna težina je težina koja je optimalna za vaše dobro zdravlje. Ako se sviđate sebi sa tom težinom, i dobro se osećate – to je odlično.
Trend za mršavljenjem radi svoj posao, zato ljudi počinju da sumnjaju u to – da li je normalna njihova težina, čak i ako su njom zadovoljni. Postoje različite tabele odnosa visine i težine.
Ova tabela razlikuje se od onlajn-kalkulatora, koji izračunavaju idealnu težinu: ona je namenjena  lekarima specijalistima, kako bi tačno izračunali odnos visine i težine zdravog čoveka.
Ona sadrži idealne vrednosti težine za krhku, normalnu i širokokostnu građu tela. Sem toga, uveden je koncept starosti: kako je pokazala praksa, sa godinama, težina čoveka menja se po sili prirodnih razloga.
Pogledajte ovu tabelu i saznajte svoju idealnu težinu prema uzrastu, visini i građi tela: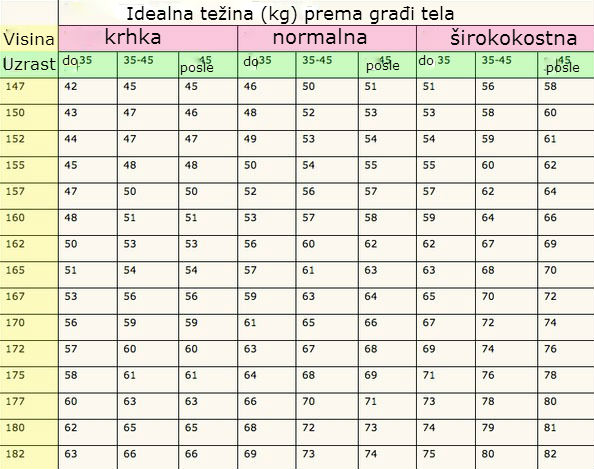 Da li ste zadovoljni rezultatom?