Šta znate o tome kako je pravilno kupovati flaširanu vodu? Najverovatnije ste čuli  za savet da samo obratite pažnju na dno flaše, da ono bude u redu. Ali, to nije dovoljno da zaštitite svoje zdravlje.
Plastične flaše na svojim etiketama uvek imaju informaciju od koje vrste plastike su napravljene. Ova informacija je veoma bitna. Jer  plastika oslobađa u sadržaj flaše hemikalije različitog stepena opasnosti.
Bilo koja flaša na svojoj etiketi ima jedan od ovih simbola: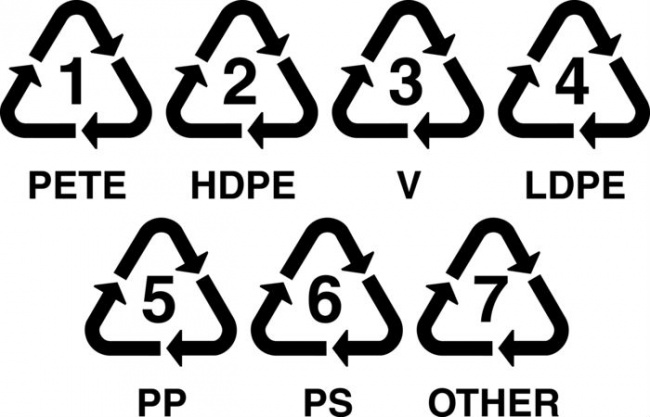 PET ili PETE
To su flaše za jednokratnu upotrebu. One mogu oslobađati u tečnost teške metale i supstance, koji utiču na hormonsku ravnotežu čoveka. PET – najčešće korišćeni tip plastike u svetu. Bitno je pamtiti da je on namenjen samo za JEDNOKRATNU upotrebu. Ako takvu flašu koristite za dalje sipanje vode, spremite se za to da u vaš organizam mogu dospeti neki alkalni elementi, i velika količina bakterija, koju PET-e prosto obožavaju.
HDP ili HDPE
Ovo je veoma dobra plastika, koja ne emituje, praktički, nikakve štetne supstance. Stručnjaci preporučuju, po mogućnosti, kupovinu vode u takvoj ambalaži. I bezbedno, i ekološki prihvatljivo: jer se sva ova plastika prerađuje. Ovaj tip plastike najčešće se koristi za čuvanje mleka, igračaka, deterdženata, i u proizvodnji određene količine plastičnih kesa.
PVC ili V
Stvari od ovog materijala oslobađaju minimum dve opasne hemikalije. Obe imaju negativni uticaj na hormonalnu ravnotežu. To je meka fleksibilna plastika, koja se koristi za čuvanje biljnog ulja. Od nje se, takođe, prave blister pakovanja za veliku količinu robe široke potrošnje. Od nje se prave plastične cevi i delovi sanitarija. PVC je relativno imun na direktnu sunčevu svetlost i vremenske prilike, zato se, često, iz nje izrađuju prozorski ramovi i creva za zalivanje. Ali, ipak stručnjaci preporučuju uzdržavanje od njene kupovine, ako se može pronaći alternativa.
LDPE
Ova plastika se koristi za proizvodnju flaša i plastičnih kesa. Ne oslobađa hemijske supstance u vodu, koju čuva u sebi. Ali bezbedna je samo, kao ambalaža za vodu. Kese od ovog materijala u prodavnicama i supermarketima je bolje ne kupovati: možete pojesti, ne samo ono što ste kupili, nego i neke veoma, veoma opasne hemikalije za vaše srce.
PP
Ova plastika je bele ili prozirne boje. Koristi se kao pakovanje za jogurte ili sirupe. Polipropilen je vredan kao termoizolacija. Kada se zagreva, ne topi se. Relativno je bezbedan.
PS
Često se koristi u proizvodnje plastičnih čaša za jednokratnu upotrebu, i kao ambalaža za pakovanje brze hrane. Ali, pri zagrevanju, oslobađa opasne hemijske supstance. Polistiren – jeftina, laka i poprilično izdržljiva vrsta plastike, koja nije pogodna za duže čuvanje toplih namirnica i pića.
PC ili plastika bez posebnih obeležja
Ovo je najopasniji tip plastike. Koristi se kod proizvodnje flaša za vodu, i ambalaže za hranu. Kategorički se ne preporučuje čuvanje hrane i vode u posudama napravljenim od polikarbonata: oslobađa bisfenol A – poznatu supstancu koja uništava vaš endokrini sistem. Potiskuje  proivodnju estrogen hormona
I još nešto: pre nego što kupite bilo šta, u BILO KOJOJ plastičnoj ambalaži, dobro razmislite. Ipak je staklo najsigurnije.