Svaki vozač je barem jednom pomislio šta uraditi ako ključevi iznenada ostanu u automobilu? Izašli ste iz auta na tren, motor radi i auto se zablokira?
Ispostavlja se da  postoje dva sigurna načina koji će pomoći da u nekoliko sekundi otvorite vrata svog automobila.
Prvi način:
Za to će vam biti potrebna teniska loptica. U njoj treba napraviti mali otvor, pomoću šila ili šrafcigera. Neka takva loptica, za svaki slučaj,  bude uvek u vašoj tašni. Možda je teško poverovati, ali uz njenu pomoć možete otvoriti svoj zablokirani auto.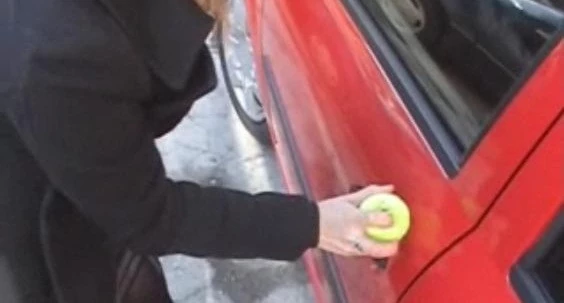 Da to uradite – prislonite lopticu rupom ka ključaonici i pritisnite je svom snagom. Vrata će se otključati.
Pogledajte kako se to radi:
Drugi način:
U ovom slučaju biće vam potrebna pertla od cipele i vaše vešte ruke. Napravite na sredini pertle klizni čvor. Zakačite pertlu za vrata automobila, i povlačeći ga iz strane u stranu, uvucite čvor unutar auta, i njime zakačite polugu za otključavanje vrata. Zategnite petlju, povucite pertlu gore i – uraaa! – auto je otključan.
Pogledajte kako to funkcioniše:
Napomena: ovaj način ne odgovara za sve tipove automobila.