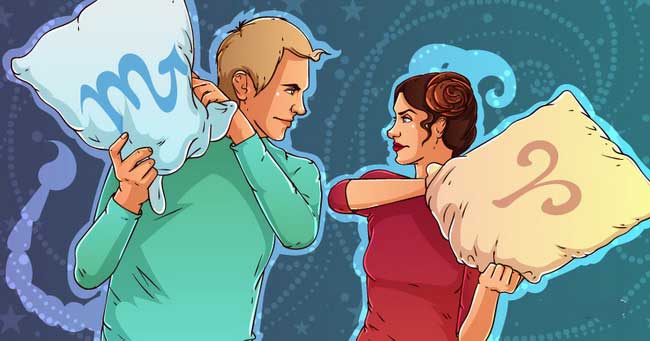 Sa nekim ljudima je veoma lako komunicirati. Često posle prvog susreta možete osetiti da ste pronašli srodnu dušu.
A sa drugima ume da  bude veoma teško. Nikako ne možete da pronađete zajednički jezik. Sve živo im smeta…
Mnogi već znaju da među 12 znakova zodijaka ima 5 "najtežih"
Škorpije – su neverovatno tvrdoglavi ljudi. Ako oni nešto odluče, biće ih veoma teško   odgovoriti. Ako ipak insistirate – naići ćete na njihovu tešku narav. Šta će vam to?
Neka rade ono što su zamislili i sami  će učiti na svojim greškama. Sledeći put biće obazriviji. Međutim, oni sebe ne smatraju  tvrdoglavima, već upornima u postizanju svojih ciljeva.
Ponekad su Škorpije  toliko nepodnošljive da čak ne želite ni da razgovarate sa njima. Ali, ipak im sve  opraštamo, jer imaju dosta vrlina. Recimo, odanijeg prijatelja  od Škorpije nećete pronaći.
Ovnovi – oni uvek traže pravdu, čak i tamo gde je nema. Oni će vam dokazivati da niste u pravu sve dok  ne odustanete. Takvu tvrdoglavost, kao kod ovog znaka, nećete sresti ni kod Škorpije.
Rođeni u ovom znaku,  često pokazuju svoju nepristupačnost i ravnodušnost. Ali, u stvarnosti su veoma mekani u duši i ranjivi.
Vodolije – često veruju u to da samo oni znaju kako  treba postupati u određenim situacijama. Iz sve snage će i vas ubeđivati u to. Ne nasedajte!
Oni lako mogu okriviti nekoga i ne vole da slušaju pravdanja. Vodolije imaju poseban um, ali su često okupirani emocijama.
A osim toga  Vodolije su veoma impulsivne. Do besnila ili tačke ključanja, mogu dovesti i najmirniju osobu.
Lavovi – mnogi smatraju da je njihov težak karakter prouzrokovan njihovom arogancijom. To je zaista tako.
Ali kada skinu svoju krunu, pretvaraju se u obične ljude. Pokušajte bolje upoznati ovaj horoskopski znak i bićete prijatno iznenađeni.
Rakovi – imaju dosta mana. Ali, dok  jedni horoskopski znakovi pokušavaju da ih sakriju, Rakovi ih otvoreno demonstriraju. Na taj način oni smatraju da to nihov karakter čini unikatnim.
Govore oštro, ponekad vređaju a zatim sve to pripisuju svom jedinstvenom karakteru. Jednostavno, ne dozvolite da budete povređeni.
Čitajte još: Ko su najmudrije žene prema horoskopu