Ovo može izgledati čudno, ali najmanji prst na ruci, a posebno njegova dužina i oblik, može dosta reći o tome kakva ste osoba.
Mali prsti na rukama odražavaju crte vašeg karaktera. Pažljivo pogledajte svoju ruku i odredite tip na koji se odnosi vaš mali prst .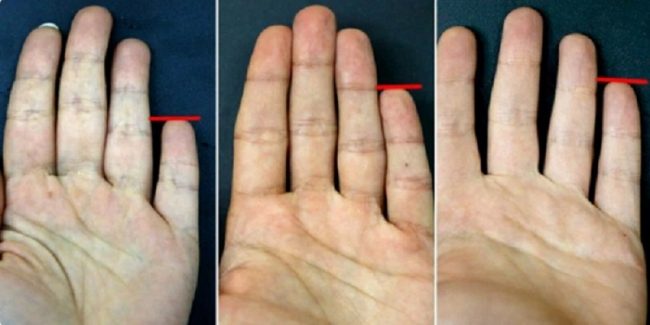 Mali prst normalne dužine.
Mali prst dužine do koje dostiže falanga domalog prsta, smatra se normom. Ljudi sa takvom dužinom malog prsta odlikuju se zrelim, dobro isformiranim karakterom, utvrđenim  životnim principima. Veoma retko menjaju svoje stavove.
Dugačak mali prst.
Ako je vaš mali prst  malo duži od linije koja deli gornju i srednju falange domalog prsta, imate sreće! To je znak šarmantne, harizmatične osobe, koja se nikad ne predaje. Talenat i upornost u radu takvog čoveka, čine čuda. Posebno je dobro, ako se ovakav domali prst nalazi na desnoj ruci.
Kratak mali prst.
Vlasnici kratkog malog prsta veoma su pažljivi i druželjubivi. Za njih je karakteristična određena stidljivost, ali to nikako nije mana. Leporečivost i sposobnost građenja  diplomatskih odnosa  – njihov je adut.
Oštar mali prst.
Zaoštren vrh malog prsta govori o sposobnosti čoveka ka jezicima, i o neverovatno kreativnoj ličnosti. Zaobljeni vrh malog prsta znak je flegmatičnog čoveka.
Zakrivljeni mali prst.
Zakrivljeni mali prst govori o sposobnosti brzog prilagođavanja promenama. Ljudi sa takvim karakteristikama – predodređeni su mirotvorci.
Široki zglob malog prsta.
Blago razmaknut u stranu, široki zglob malog prsta, poseduju ljudi na koje se uvek možete osloniti. Oni znaju mnogo o svetu, ponekad se sećaju svojih prošlih života i nikad neće odbiti da pruže pomoć.