Čist, kao sneg beli veš koji miriše na svežinu  – to je ideal  kome teži svaka  domaćica. Međutim, često se dešava da se kod jedne komšinice na terasi suše idealno beli čaršavi,  a kod druge veš koji više liči na sivu izbledelu krpu.
Zašto se to dešava i kako postići efekat idealne beline bez previše napora?  Već ste isprobali sintetičke izbeljivače, koji su uzgred i istanjili vaš veš, a rezultatom niste zadovoljni? I kako izbeliti veš i vratiti njemu prethodnu belinu ?
Nemojte očajavati. Postoje i narodna sredstva, koja su koristila naše bake i prabake. Ponekad tajna čistog belog veša nije u skupim sredstvima poznatih proizvođača, nego u jednostavnim narodnim sredstvima.
Jedan od takvih načina je izbeljivanje veša pomoću kalijum permanganata. Probajte i vi, i bićete iznenađeni rezultatom.
Kako izbeliti veš uz pomoć kalijum permanganata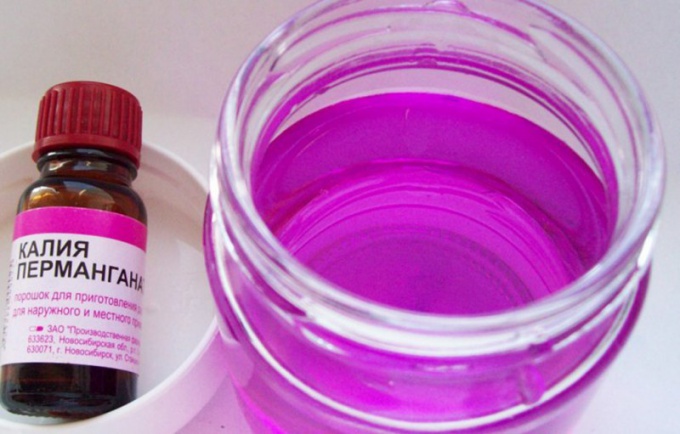 Za početak nabavite u apoteci najobičniji kalijum permanganat (hipermangan). U kućnim uslovima ovim jeftinim, ali veoma korisnim sredstvom uradite sledeće:
– U 10 litara vruće vode (koju možete sipati u lavor) stavite nekoliko kristala kalijum permanganata da voda postane roze boje. Nemojte preterivati, da ne dobije tamnoljubičastu boju.
– Sipajte 200 gr deterdženta za veš i promešajte.
– Stavite mokar veš u ovaj rastvor. Odgore lavor pokrijte  najlonskom kesom ili folijom za domaćinstvo i ostavite tako  4-5 sati (možete na celu noć). Nemojte da vas zbuni ova, najblaže rečeno, neatraktivna nijansa vode, u kojoj je potopljen vaš veš.
– Nakon toga veš iscedite, stavite u veš mašinu i perite ga na uobičajeni način.
– Možete oprati veš pre izbeljivanja. U tom slučaju, izvadivši ga iz lavora, samo ga isperite u čistoj vodi i okačite da se suši.

Po potrebi ponavljajte postupak izbeljivanja i uvek ćete imati besprekorno čist beli veš, koji će biti dostojan divljenju vaših komšinica i zahvalnosti vaših ukućana.
Savet plus: obična soda bikarbona pomoći će vam da uštedite na skupim sredstvima za pranje i izbeljivanje veša. Rezultat će biti bolji ako pri pranju na visokoj temperaturi dodate 2-3 kašike sode bikarbone uz prašak za veš.
Soda smanjuje tvrdoću vode, tako da svi deterdženti za veš postaju još efikasniji.  Kao dobar izbeljivač, neke žene koriste prašak za pecivo. Potrebno je samo da ga stavite, pre pranja, sa praškom za veš u istu pregradu u mašini.
Čitajte još: Kako spasiti veš koji je nakon pranja pustio boju.