Tiganji su nezamenljive kuhinjske posude. Koristimo ih vrlo često, a ponekad ne samo jedan, već nekoliko. Nije ni čudo da se prilično brzo, na njihom dnu i sa strana, nahvata deblji sloj masnoće.
Hemijske metode za uklanjanje ovih problema često su maloefikasne, a ponekad nisu efikasne uopšte. Sa hemijom moramo obavezno raditi u gumenim rukavicama, a miris (da ne kažem smrad) od svih tih proizvoda kućne hemije je nepodnošljiv i može izazvati alergiju. 
Međutim, postoje veoma jednostavni načini uklanjanja zagorele masnoće, i to brzo, i bez upotrebe hemije.
1. Lak način da očistite tiganj od masnoće: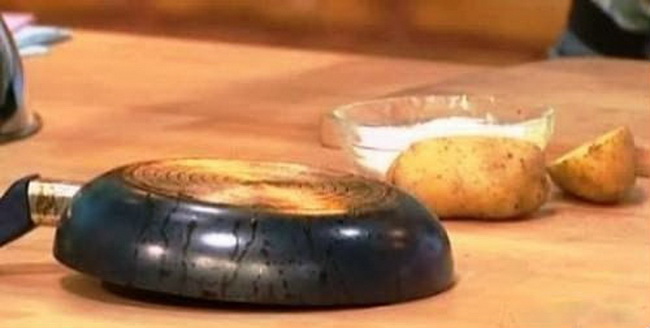 Očistite jedan krompir srednje veličine. Isecite ga napola i jednu polovinu umočite u sodu bikarbonu.
Dalje, trljajte ovom polovinom, kao sunđerom dno šerpe ili tiganja. Treba uložiti mali napor, ali rezultat će biti vidljiv momentalno, što će vas dodatno inspirisati.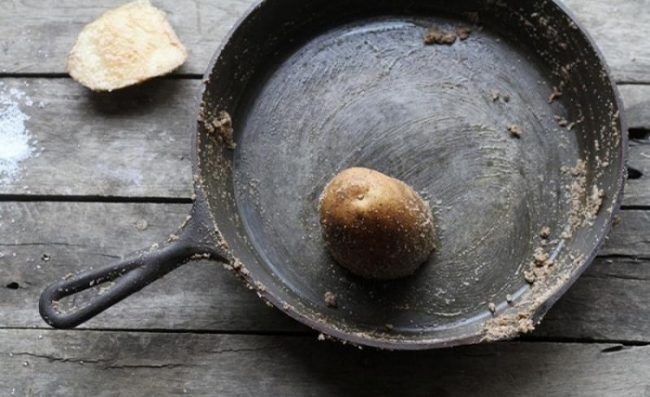 Ako želite na ovaj način očistiti od masnoće više tiganja ili lonaca, neophodno je periodično obnavljati kolutove krompira, odnosno, povremeno odsecati zaprljani deo. Takođe, češće ga treba umakati u sodu bikarbonu, jer masnoću, ustvari, čisti kombinacija soka krompira i sode bikarbone.
2. Masnoću na zidovima lonca možete uklonite uz pomoć običnih kesica čaja.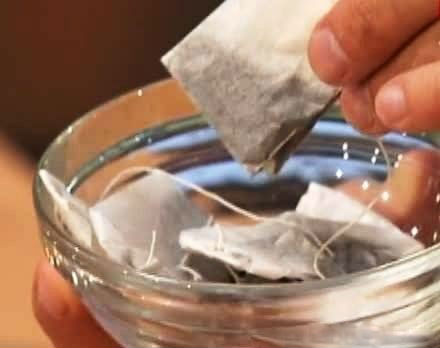 Uzmite suvu, nekorišćenu kesicu čaja, i jednostavno pređite sa njim po unutrašnjem zidu lonca(šerpe), na kojem je ostala masnoća. Odmah ćete primetiti kako se masnoća rastvara, kao da se upija u čajnu kesicu. 2-3 kesica čaja i – "doviđenja masnoći". Za ovu potrebu kupite najjeftiniji čaj u kesicama.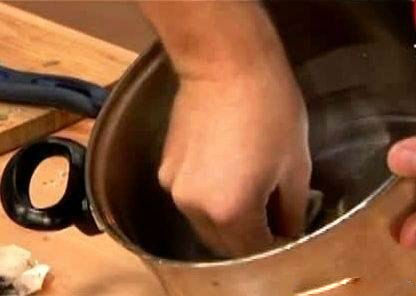 3. Masnoću sa spoljnih strana tiganja, lonaca, šerpi možete takođe ukloniti kuvanjem istih u rastvoru sode bikarbone.
Uzmite veći sud u koji može stati tiganj ili šerpa, sipajte u njega 5-6 kašika sode bikarbone i prelijte vodom. Kuvajte 30-40 minuta. Nakon toga samo prebrišite svoje sudove.
Za ovu metodu nije potreban nikakav fizički napor, ali njeno izvođenje zahteva vreme. Ako ga imate, to je najefikasniji način eliminisanja stare masnoće sa svih sudova. Na ovaj način možete iskuvavati cediljke, viljuške, kašike, poklopce i druge predmete sa "teškodostupnim" mestima.
U posuđu pripremamo hranu za sebe i svoju decu. Manje hemije, bolje je za sve nas. Budite zdrave, a vaši sudove neka vas raduju svojom čistoćom.