Svi znaju da je za doterivanje linije potrebno manje jesti, a više se kretati. Što se kretanja tiče, sve je manje-više jasno, ali šta znači "manje jesti", većini ljudi stvara teškoće. Koliko i šta jesti? Kolika treba da bude dnevna doza kalorija? Pokušaćemo da u ovom članku odgovorimo na to poslednje pitanje.
Predlažemo da se upoznate s formulom koja će vam pomoći da izračunate količinu kalorija, potrebnih da se zdravo i pravilno hranite, a pritom ne dobijate na težini.
Danas Američka asocijacija dijetetičara smatra ovu formulu najtačnijom, od svih sličnih.
Formula Miflina-Sen Žeora izgleda ovako:
♦  Za žene:
(10 x težina u kilogramima) + (6,25 x visina u centimetrima) – ( 5 x godine starosti) – 161
♦  Za muškarce:
(10 x težina u kilogramima) + (6,25 x visina u centimetrima) – ( 5 x godine starosti) + 5
Prema tome, za ženu od 30 godina, visoku 170 cm i tešku 65 kg, proračun kalorija neophodnih za funkcionisanje organizma u mirnom stanju, izgledaće ovako:
(10 × 65) + (6,25 × 170) — (5 × 30) — 161 = 1401,5
Formula uzima u obzir i fizičku aktivnost, na osnovu koje se dobijenom rezultatu dodaje odgovarajući koeficijent.
♦ Ako niste fizički aktivni i obavljate posao sedeći, pomnožite dobijeni rezultat sa 1,2.
♦ Ako pomalo trčite i radite laku gimnastiku 1-3 puta nedeljno, pomnožite sa 1,375
♦ Ako se umereno bavite sportom 3-5 puta nedeljno, pomnožite broj kalorija sa 1,55
♦ Ako imate pun trening 6-7 puta nedeljno, treba da pomnožite rezultat sa 1,725
♦ I konačno, ako vam je posao fizički naporan, trenirate dvaput dnevno i program vežbi sadrži vežbe snage, vaš koeficijent će biti 1,99
To znači da će za devojku sa ranije navedenim parametrima, koja trči nekoliko puta nedeljno, broj kalorija iznostiti: 1401,5 × 1,375 = 1927,06. Međutim, ako ta devojka trenira 6-7 puta nedeljno, njene dnevne potrebe će iznositi: 1401,5 × 1,725 = 2417,6.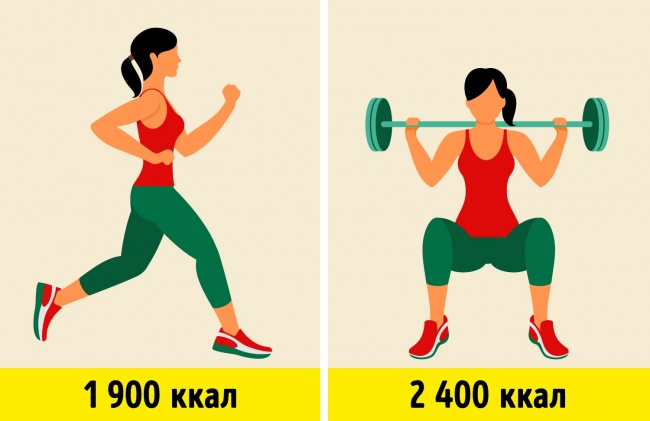 Primena formule Miflina-Sen Žeora
Istraživanja su pokazala da se ova formula ne može podjednako primeniti na sve ljude, pošto svako ima drugačiju brzinu metabolizma i različitu mišićnu masu. Pored toga, utiču i drugi faktori. Na primer, formule ne odgovaraju gojaznim ljudima i primenjuju se samo na one čija je težina u granicama normale.
Oni koji planiraju sporo, po zdravlje bezopasano smanjenje težine, dobijeni rezultat treba da umanje za oko 250 kalorija. Ukoliko planirate da oslabite brže, smanjite broj kalorija za 500 kcal. Upamtite da broj neophodnih kalorija ne smete smanjiti ispod 1200 kcal za žene i 1400 kcal za muškarce.
Primenićemo formulu Miflina-Sen Žeora na primer iste žene. Recimo da se ona bavi sportom 3-5 puta nedeljno i želi da smanji broj kilograma u "bezbednom režimu". To znači da dobijeni rezultat treba da pomnoži sa 1,55:
1401,5 × 1,55 — 250 = 1922,325
Stoga bi trebalo da ishranu podesi tako da dnevna količina kalorija ne prelazi 1920 kcal. Unoseći toliku količinu kalorija, gubiće oko 250 grama nedeljno.
Ukoliko je potrebno da brže izgubi na težini, onda dnevni unos kalorija treba da bude oko 1420 kcal, tako da će nedeljno gubiti oko 500 grama, čak i bez dodatnog vežbanja.
Jeste li izračunali svoju normu? Jeste li njome zadovoljni?