Još jedan koristan savet posvećen održavanju čistoće u kući. Ovaj put – osveživač vazduha za toalet i kupatilo.
Znamo da postoji posebna potreba za održavanje svežeg vazduha u ovoj maloj, ali veoma važnoj prostoriji. U kupatilu možete imati i bolje istančanu aromu, a ne samo tu koja izlazi iz kupovnih sa potpisom "Osveživač vazduha".
Nemam ništa protiv kupovnih osveživača, ali ovaj prirodni, bez ikakve hemije, jednostavan je recept i verujem da će se mnogima svideti. Miris će biti konstantan, što nije slučaj sa industrijskim preparatima. Pravi se brzo i jednostavno.
Kako biste obezbedili konstantni miris svežine u toaletu, za ovaj prirodni osveživač vazduha biće potrebno:
– rolna toalet papira
– eterično ulje (po vašoj želji)
Ništa više! Sve što je potrebno, to je da nekoliko kapi vašeg omiljenog eteričnog ulja stavite na unutrašnju stranu rolne, na koju se namotava papir i malo odgore po samom WC papiru.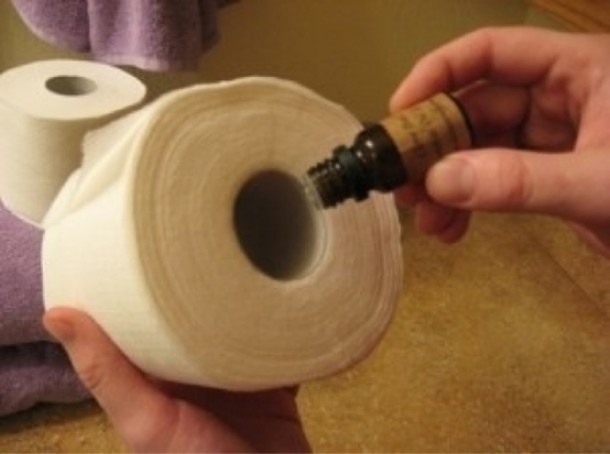 I to je to! Jednostavno, ne može biti jednostavnije, a miris će biti prisutan u prostoriji danima, odnosno dok ne potrošite rolnu papira.
Možete eksperimentisati sa mirisima. Kod kuće uvek imam nekoliko flašica različitih eteričnih ulja. Svaki put koristim drugo.
Ne znam kako je kod vas, u mojoj porodici jedna rolna papira ne traje preterano dugo :), tako da uvek koristim 2 rolne papira.
Jedna, koja je na držaču za papir i druga, koja stoji na polici u kupatilu. Na obe stavim po nekoliko kapi eteričnog ulja. Miriše fenomenalno.
To vam je kao kombinacija 2 u 1. Pored osvežavajuće arome u kupatilu, dobićete i prirodno mirišljavi toalet papir.
Probajte. Verujem da će vam se ova ideja svideti i biće od koristi.