Jao, ta deca! Pre samo jedne sekunde mališa se igrao i smejao, a sad je već spreman da se rasplače i napravi takav spektakl, da će sigurno probuditi sve komšije; i ne samo vaše.
Pronašli smo efikasan način koji će zaustaviti dečju histeriju za sekund i pozivamo vas da ga protestirate
Nije važno šta se tačno desilo. Možda se slomila omiljena igračka, ili je mama zabranila da se pojede deseta bombona zaredom; šta god da se desilo, nemojte trošiti vreme na duge roditeljske tirade, koje dete svejedno neće čuti. Umesto toga mu polako i dobronamerno postavite pravo pitanje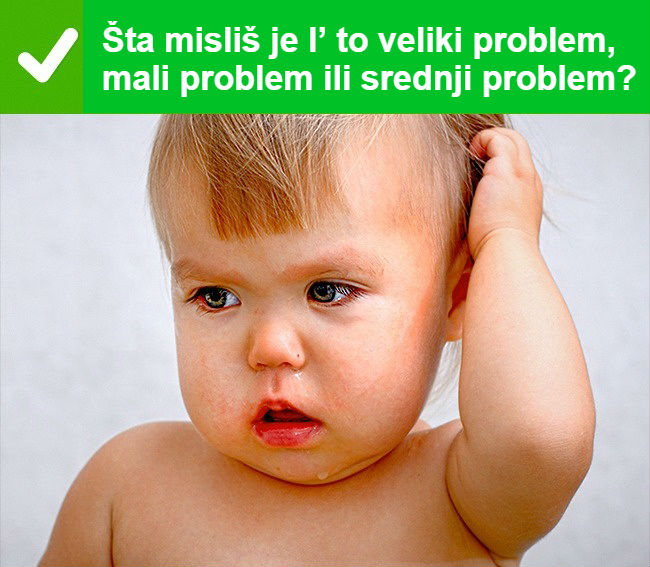 Pretpostavimo da se dete uznemirilo, jer njegov drug nije hteo da podeli igračku s njim. Ne smete čekati da dečji plač izmakne kontroli. Odmah postavite mališanu pitanje: "Je li to veliki, srednji ili mali problem?"
A nakon što odgovori, predložite mu da zajedno razmislite kako da ispravite tu neprijatnost, ma kolikih razmera ona bila. Možda da uzme drugu igračku?  Ili da predložite drugaru da se igraju zajedno? Mnogo je varijanti!
Dečji psiholozi objašnjavaju da postoje tri osnovna razloga zašto jedno tako, reklo bi se, obično pitanje, deluje na dete umirujuće:
♦ Dete vidi da mi prihvatamo i poštujemo njegova osećanja.
♦ Pitanje daje detetu mogućnost da stane, razmisli, i da dobro proceni svaku situaciju.
♦ Postavivši to pitanje, roditelji kao da daju deci mogućnost da sama reše problem koji ih toliko muči.
Ako postavite ovo pitanje i mirno popričate s mališanom nekoliko minuta, uštedećete mnogo više vremena, a pritom ćete i zadobiti njegovo poverenje.
Čitajte još: Kako lako umiriti ljutito i nervozno dete. Odličan trik koji deluje!