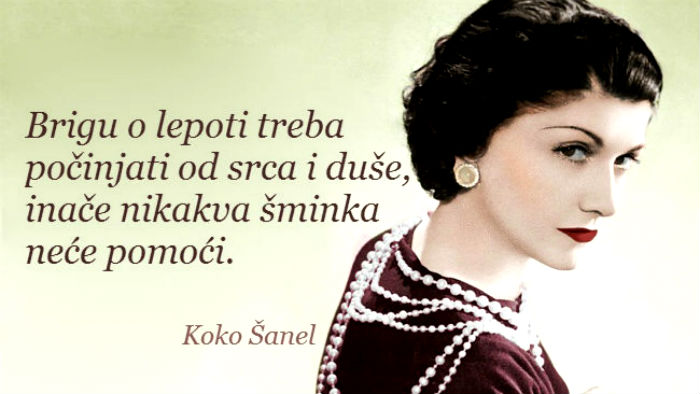 Ikona stila, koja je okrenula svet mode, tvorac male crne haljine i legendarne arome «Chanel  5», fantastičnu Koko, uvek je odlikovala duhovitost i sopstveni pogled na svet.
Baš ti kvaliteti su joj  pomogli da postane ono šta je i postala: "Na svetu je puno raznih vojvotkinja, samo je jedna Koko Šanel" – govorila je začetnica mode. I nije grešila.
Verujemo da nikog neće povrediti saveti žene besprekornog ukusa.
20 saveta – Koko Šanel
1. Čuvaje se originalnosti – kod ženske mode, originalnost može dovesti do maskembala.
2. Stvarati sopstvenu modu sebi mogu priuštiti samo mlade žene. Zrele i starije žene treba da slede klasičnu modu.
3. Brigu o lepoti treba počinjati od srca i duše, inače nikakva šminka neće pomoći.
4. Ženu, odevenu u svetlo, teško je dovesti u loše raspoloženje.
5. Čipka – najlepša imitacija fantazije prirode. A biser je uvek dobrodošao.
6. Sa 20 godina žena ima lice koje joj je poklonila priroda, sa 30 – koje je ona stvorila sebi sama, sa 40 – ono koje ona zaslužuje.
7. Ruke – vizitna kartica žene, vrat – njena lična karta, grudi – njen pasoš.
8. Godine za žene nisu najvažnije: može biti lepa sa 20 godina, šarmantna sa 40, i ostaje neodoljivom do kraja svog života.
9. Parfem – to je nevidljiv, nezaboravan, neprevaziđen modni detalj. On je glasnik žene, i podsetnik na nju, kada ode.
10. Najbolji modni detalj žene – zgodan muškarac.
11. Ništa tako ne stari ženu kao veoma skupo odelo.
12. "Kad treba koristiti parfem?"- pita mlada žena. "Kada želiš da te ljube" – kažem ja.
13. Žena, koja ne koristi šminku, ima suviše visoko mišljenje o sebi.
14. Lepota ostaje, a simpatičan izgled nestaje. Ali, žene nekako ne teže da ostaju lepe, one žele ostati simpatične.
15. Čim kod žene stvari stoje loše, ona zna da mora izgledati lepše
16. Smatra se da je luksuz – suprotnost siromaštvu. Ne, luksuz je – suprotnost vulgarnosti.
17. Ljudi sa dobrim ukusom nose bižuteriju. Svi ostali moraju nositi zlato.
18. Ne pokušavajte se podmlađivati, sa 50 više niko nije mlad. Ali, poznajem mnogo 50-godišnjaka koje izgledaju mnogo privlačnije od mladih nedoteranih žena.
19. Glavna stvar kod žene nije njena odeća,nego lepi maniri i mudrost.
20. Sloboda – to je uvek moderno.