Nas žene od ranog detinjstva upozoravaju na period koji će doći rečenicama: "Videćeš ti kad budeš mama!", "Nećeš tako misliti kad rodiš dete!", "Zaboravi na to, sad imaš bebu."
Eh, a mi moderne žene, želimo da budemo i moderne mame, ipak ovo je vek inovativnih stvari, pa zašto mi ne možemo biti 3D mame? Ko nam brani? Naši mali ljudi, naši bebići? Ah, ne!
Da bismo prkosili svim ženama starijim od nas, mi ćemo pasti s nogu, ali bićemo spremne za sve. Kaže moja kolegenica za sebe da je mama hobotnica, uspešna u svom poslu, profesionalac, dobra mama, sve mora da zna o svom čedu.
Postavlja se pitanje, da li moderna žena koja želi biti mama za primer više, ne može biti najbolja drugarica, sestra, kolegenica, kuma?
Odgovor sledi.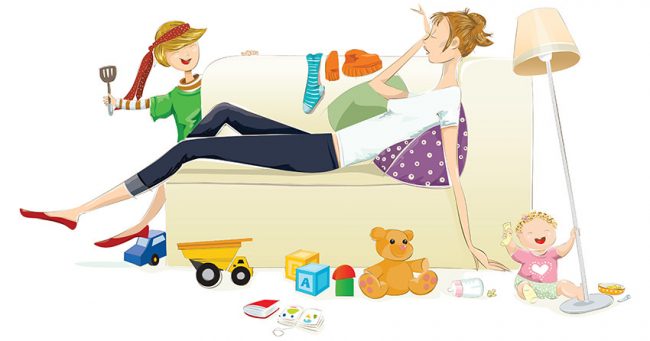 Da bismo sve ovo postigle, mi smo stonoge. U isto vreme kuvamo ručak i slušamo lupnjavu novih, neiskorišćenih šerpi dobijenih od svekrve, ali osmeh će još više začiniti divno jelo koje očekuje naš suprug. Mašine za posuđe i veš ispunjavaju svoju namenu, kao i borbu sa suprugom oko kupovine istih, jer kako bismo stigle da popijemo ohlađenu kafu?
Dok se pravimo da opušteno pijemo kafu, neprimetno pevušimo: "U svetu postoji jedno carstvo, u njemu caruje drugarstvo…", tada iznenada shvatimo da se drugarici nismo javili još od prošlog izbijanja zubića. Onda sledi neverovatna promena!
Čupavu kosu veštinom najboljeg frizera pretvaramo u frizuru za svet i izlazimo napolje. Naravno nezaobilazno prevozno sredstvo su nam: kolica, trotinet, bicikl, zavisno od uzrasta našeg zlata. Uz sve to ide mali ranac, igračke, ali i predivna torba, jer ipak ne možemo i toga da se odreknemo!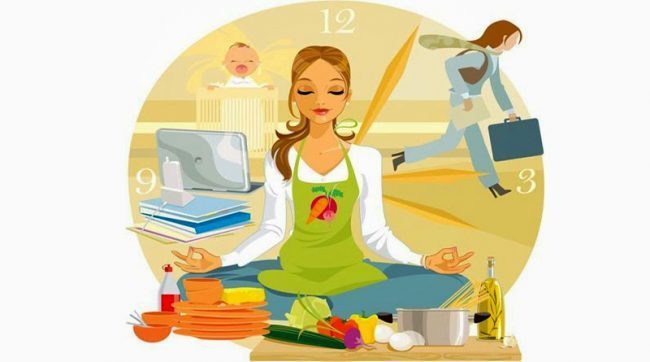 Ono što je nekad bilo ogovaranje gradskih faca, sada je mlataranje rukama uz jedine reči koje čujete: ne i ne! Prvo vi izgovarate, a drugo ponavlja vaše dete glasnije i prkosnije nego ikad. I dok sada pijete vrelu kafu pazeći da malena ručica ne završi u šoljici, tešite se, to je kod svih tako. E, pa, da li su naše bake ispijale kafe u kafićima?
Mislile smo da nas kućni poslovi ne dotiču, ali sada moramo dokazati suprotno. Posle dugočasovnog nošenja salonki, jer zaboga, na poslu izigravamo istu onu damu, koja je sada još i mama, kod kuće izigravamo kućnu pomoćnicu.
Iz salonki u kućne papuče, pa peglanje, ribanje i brisanje. Dok moderne cure imaju skraćenicu LOL, mi moderne mame, imamo PRB! Sad sledi LOL, pa kome je smešno, neka se slobodno osmehne!
Nakon noćnog dremkanja, uz stalno buđenje, paranoično proveravanje da li dete diše, ustaješ neispavana i spremna za nove moderne pobede!
Uz jutarnju jurnjavu shvatiš da ti je i vrat ukočen, ali ne mari, tvoj mališan je jutros tašio, grlio te i štipkao nosić. Uredno je koristio nošu, polio se jogurtom, ali pio iz čaše. Izgužvao tatine novine, uz neodoljiv smeh.
Shvatiš da ti jesi moderna mama, jer ona voli svoju ulogu i može sve! Vremena za kompletno šminkanje nemaš, ali karmin je tu i stavlja se u sekundi. Pogodili ste, upravo onaj crveni! Kao nekad…
Autor: Marija Markovič