Svi smo se u životu susreli s neprijatnim i zlim ljudima, koji razmetljivo nose masku sušte vrline. Takvi ljudi namerno povređuju druge, ne zaboravljajući da se pritom ljubazno smeše. Međutim, zlo pre ili kasnije bude kažnjeno i mi smo pronašli odličnu potvrdu toga.
Femina je za vas prevela zanimljivu priču iz knjige "Mala sreća" ruskog psihologa Ane Kirjanove, koja će vas uveriti da na svetu još uvek postoji pravda i da kazna ponekad stiže vrlo brzo..
"Dama u finom belom kaputu mučila je drugu damu. Zapravo ne damu, već loše odevenu ženu s dečjim kolicima i devojčicom koja je nosila naočare. Bio je to u prodavnici. Dama u belom kaputu obraćala joj se vrlo ljubazno, puna pitanja i takođe puna saosećanja, odmahivala je glavom, slušajući odgovore – kao učiteljica ili psihijatar dok sluša pacijenta:
Zašto vaša devojčica nosi naočare? Ah, slabo vidi, a šta da se radi! Da, odmah se vidi da joj jedno oko beži. Moraće na operaciju, a možda joj ni to neće pomoći. A zašto ćuti? Je li stidljiva? Možda je autistična? Roditelji u početku misle da im je dete stidljivo, a posle se ispostavi da nije normalno. A čime se vaš suprug bavi? U današnje vreme je teško izdržati dvoje dece. Koliko samo koštaju jedne naočare! A koliko vam je staro mlađe, to u kolicima?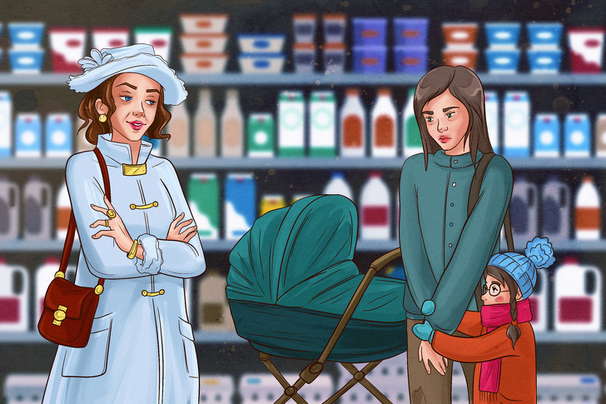 I skomno obučena žena je krotko odgovarala, jer vas takve dame naprosto hipnotišu. Teško ih se otersti i otići jer one imaju u sebi nešto zapovedničko, što vas tera da im se pokoravate. Znam takve. Zato sam im prišla, da pokidam te nevidljive veze, i počela sam da biram krompir.
Mama s decom je iskoristila priliku da ode, a dama u kaputu mi je poverljivo rekla: "Kolica su joj, iz nekog razloga, dobro zatvorena. Ko zna kakvo je čudovište u njima. Takvi samo bedu rađaju!" Nisam odgovorila, izmerila sam krompir i kupila odličan sladoled, zapravo tri komada. Bilo mi je teško na duši i zato sam ih toliko kupila, ali nije stvar u tome.
Dok sam kopala po zamrzivaču i tražila sladoled, dogodilo se sledeće: dama u belom kaputu je uzela kanticu majoneza. I tek što ga je uzela u ruke, dogodilo se nešto neverovatno: kantica u njenim rukama je pukla, prosto eksplodirala!
Ukratko, došao je kraj njenom finom kaputu i divnom šeširu, kao i elegantnoj šminki – po svemu je prsnuo masni majonez. Šljis! – I sve je bilo u flekama. Svi su pojurili da je čiste i brišu pod, kao i zidove i proizvode na okolnim policama, jer je majonez šljisnuo na sve strane, koliko ga je bilo!
Sladoled sam, naravno, dala onoj mami s kolicima i devojčicom s naočarama. Uostalom, i ja ih nosim. "Ljudi s naočarama treba da se pomažu!" – rekla sam joj i svi smo se nasmejali. Smejala se i devojčica Lena – rekla mi je da se tako zove.
I Lenina mama se smejala i otvorila kolica. U njima nije bilo nikakvo čudovište, već bucmasti dečkić rumenih obraza, koji je slatko spavao. I on će kod kuće doobiti malo sladoleda. Nekom sladoled, a nekom majonez na kaput. Jer neko to odozgo vidi sve…