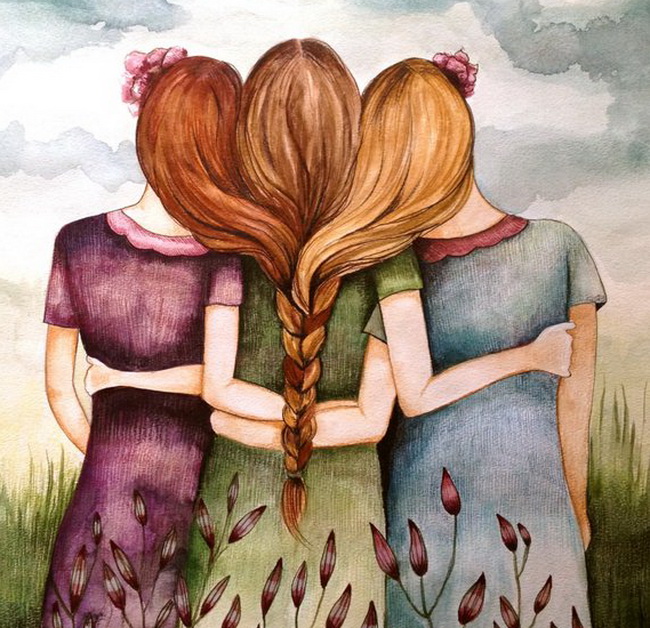 "Imati sestre znači nikad u životu ne biti sam." Ovo, uglavnom, važi sve dok se sestre ne udaju. U zavisnosti od toga kakav joj je muž, ona će odlučiti u kom pravcu će dalje ići vaš odnos. Da li će Vas držati na distanci, ukoliko Vas njen muž ne voli, ili će biti još bliskija sa Vama, ako on prihvata njenu porodicu. Jedno je sigurno – odnosi će se promeniti.
Iz ljubavi prema sestri ćete prihvatiti sve, ama baš sve dok ne dođe trenutak kad ne možete više. Odbijate da budete pacifista dok Vas njen muž proziva i zbija šale na Vaš račun. I baš Vas briga što će se sestra naljutiti ukoliko mu uzvratite istom merom, jer nije ništa učinila da bi Vas zaštitila.
Ne želite više da je posećujete jer njen suprug generalno ne voli ljude u svom prostoru, a Vas pogotovo. Dosadilo Vam je da tenziju, koja nastane čim se pomolite na vrata, sečete nožem. Dostojanstvo nastupa na velika vrata.
Ne želite više da budete servilni, na usluzi u svakom momentu jer je navikla da se o njoj starate od malih nogu i opraštate sve velike i male ludorije. Ne možete. A duša pri tom? Raspada se. Duša se raspada pri samoj pomisli da se odnos raspao.
Da više ne postoje grupni zagrljaji koji su vas čvrsto povezivali u vihorima razorenog detinjstva, u potpuno disfunkcionalnom braku vaših roditelja. Ne znaju ti muževi kroz šta ste sve zajedno prošle. Ne znaju koliko ste se volele i bile spremne da poginete jedna za drugu. Ne znaju koliko su stisci ruke bili prećutna podrška u teškim vrmenima. Ne znaju kako ste se zagrljajima međusobno lečile. Oni znaju da imaju ženu, a ta žena ima sestre. Tačka.
Prirodno je da te sestre nisu deo porodice, nego retki (rado ili ne) viđeni gosti. Zbog toga žalim što smo odrasle. Što je to detinjstvo, kakvo god bilo, prošlo, jer mi nedostaje ona sirova, netaknuta ljubav koja je isijavala iz nas. Ta snaga odnosa – sve za jednu, jedna za sve! Sad su uključeni drugi. Moraju biti.
Kalkuliše se sa svim – emocijama, posetama, uslugama. Odjednom postoji mera za svaku situaciju. Aršini se razlikuju. A možda nepravedno krivim muževe. Možda su odlučile da odrastu. Da se otrgnu u svoj svet, ograde i pokušaju bez ičijeg upliva da budu supruge, majke, žene.
Sestra je samo jedna od uloga. Možda nebitnija od uloge majke i supruge. Ne znam. Nisam iz te priče. Meni su moje sestre bile prve perle na ogrlici odrastanja, svi ostali su se samo nadovezivali. Ako bih izbacila te prve perle, cela ogrlica bi se raspala. Tako ja razmišljam. I baš zbog te velike ljubavi, blagosiljam ih i otpuštam svom dušom, nadajući se i radujući makar mrvama, tragovima nekadašnje bliskosti. Kad god i gde god.
Teško je sve uklopiti, ali nije nemoguće. Svi treba od sebe malo da daju, a to malo će napraviti jedno mnogo. Imam dve ćerke i maštam da jedna drugoj budu stubovi, uzdanice, stisak ruke kad krenu oluje. Mojoj sreći ne bi bilo kraja. Da nauče da se drže zajedno, zauvek. Jer ista krv struji njihovim venama, isti geni, isti preci. Najbolje jedna drugu poznaju i prepoznaju.
Ne znam kako da se život poigra sa njima, most ljubavi mora ostati i opstati. Uprkos svemu. Zub tuđe rđe ne sme ga dotaći. Učiću ih da svoj odnos ljubomorno čuvaju, od svih, jer "Sestra je sestri – pola roda (familije)".