Svaka domaćica ima svoju tajnu pripreme testa, ali se često dešava da savet prijateljice ili komšinice bude od koristi i nije na odmet da se iskoristi. Ovo testo je zaista mekano. Ono je vazdušasto, lako i veoma ukusno.
Od ovog  testa može se peći apsolutno sve: piroške, kiflice, pica… I uvek će uspeti. Probajte!
Za pripremu takvog testa biće potrebno:
– 1 čaša kefira ili jogurta (180-200 ml)
– 0,5 čaše ulja
– 1 kesica (11 gr) suvog kvasca
– 1 kafena kašičica soli
– 1 supena kašika šećera
– 3 čaše brašna
Priprema: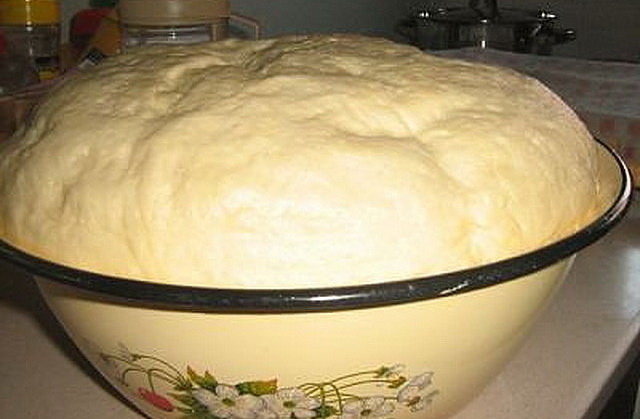 Kefir pomešati sa uljem i malo ugrejati, da bude toplo. Dodati so i šećer i promešati.
Kvasac pomešati sa prosejanim brašnom i dodati u prethodnu smesu.
Sve promešati kašikom, prekriti domaćinskom folijom ili krpom i ostaviti na toplo mesto na 30 minuta.
Za to vreme testo će se u obimu uvećati 3 puta. Ako mislite da  za to vreme testo nije dovoljno nadošlo, ne sekirajte se, ono će se podići za vreme pečenja.
Ove piroške sam pravila po ovom receptu