S godinama, u ogledalu primećujemo da nam oči postaju umorne i tužne. Obrve i gornji kapci postaju opušteni, spoljni uglovi očiju se spuštaju, pojavljuju se sitne bore, pa čak i duboke, kao posledica otoka lica.
Azijska šijacu masaža pomaže da se oblast oko očiju podmladi i "vrati na svoje mesto". Ona se najviše razlikuje od ostalih po tome što su jedini pokreti pritiskanje određenih tačaka. Japanke rade šijacu – možda je u tome tajna njihove lepote i mladosti?
Femina se zainteresovala za ovaj sve popularniji sistem, koji je u Japanu zvanično priznat kao lek. Svakodnevna šijacu masaža traje samo jedan minut i treba je raditi ujutro, uveče ili kada osetite da su vam oči umorne.
KAKO DELUJE
Pritisak na određene tačke na telu i licu pomaže da krv i limfa bolje cirkulišu. Tako se metabolički procesi u tkivima mnogo brže i efikasnije odvijaju, čime pospešuju prirodan proces obnavljanja organizma.
Kada to radite sami, nemojte masirati zone (to treba da radi samo stručnjak). Pritisak treba da bude srednjeg intenziteta, da osetite blagu nelagodnost.
Kad je reč o predelu oko očiju, pomoću masaže:
jačaju mišići;
peglaju se bore;
povećava se elastičnost kože usled stimulacije stvaranja kolagena i elastina;
normalizuje se proizvodnja sebuma.
1. Podizanje obrva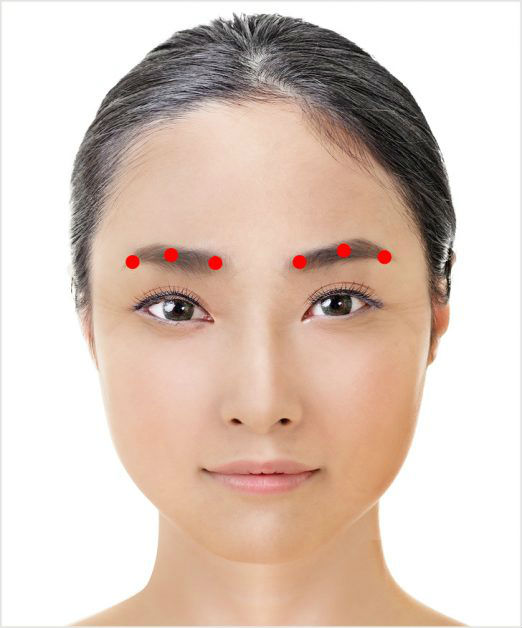 Delovati: na unutrašnji i spoljašnji kraj obrva, kao I na sredinu obrva.
Postavite kažiprst, srednji i domali prst na te tačke i pritisnite ih. Da bi se obrve "vratile na svoje mesto", pritisak na krajeve obrva usmerite blago naviše.
Vreme: 7 sekundi.
2. Uklanjamo "jastučiće"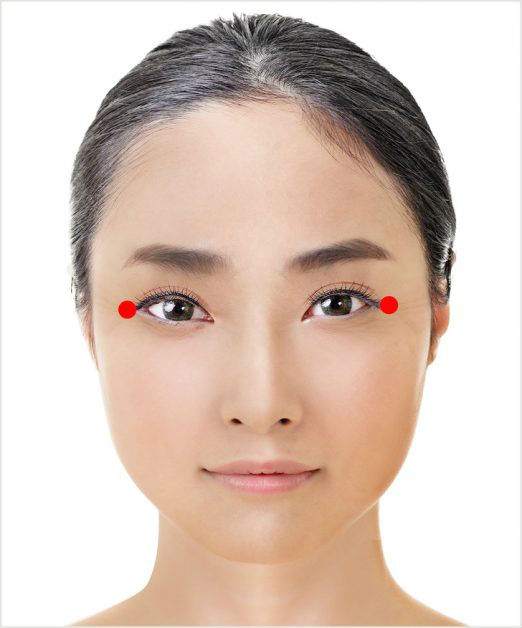 Pritisak: na spoljne uglove očiju.
Stavite kažiprste na odgovarajuće tačke, malo zagrejte to mesto, pa pritisnite i otpustite. Možete malo povući mišiće prema slepoočnicama, bez podizanja prstiju. Imajte na umu da ne treba povlačiti kožu, nego sam mišić.
Vreme: 3 sekunde.
Ponoviti: 3 puta.
3. Uklanjanje otoka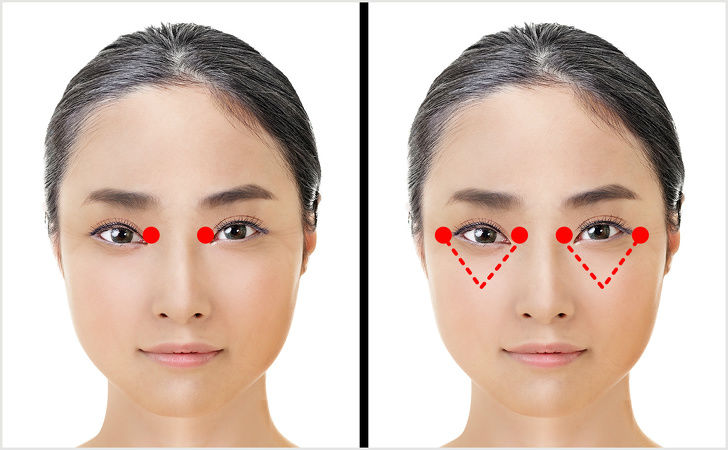 Pritisak: na unutrašnji ugao oka – između oka i nosa.
Stavite kažiprste na tačke i gurajte strogo okomito, bez istezanja i pomeranja kože. Možete istovremeno vršiti pritisak kažiprstom i srednjim prstom na unutrašnji i spoljašnji ugao oka.
Vreme: 3 sekunde.
Ponoviti: 3 puta.
4. Uklanjanje bora između obrva
Delovati: između obrva, u zoni "trećeg oka".
Spojte kažiprst, srednji i domali prst, pa jagodicama pritisnite tri tačke između obrva.
Vreme: 5-7 sekundi.
Ponovite: 2 puta.
5. Pomlađivanje kože ispod očiju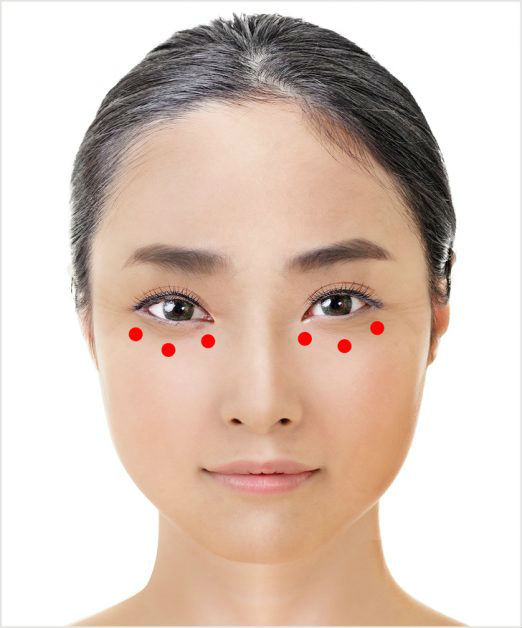 Delovati: na ivicu kosti ispod očiju.
Postavite kažiprst, srednji i domali prst na tačke i pritisnite.
Vreme: 10 sekundi.
Ponoviti: 2 puta.
Ovaj kompleks se može raditi zasebno ili proučiti i izvesti kompletna šijacu masaža lica. Njena primena će i svaku drugu masažu ili gimnastiku lica učiniti efikasnijom.
Još: Ova zanimljiva japanska metoda pomoći će brzom uklanjanju sala sa stomaka