Ova slika je prvobitno bila  zamišljena kao neka vrsta psihološkog testa, međutim, vremenom su se počele primećivati neke zakonitosti.
Ispostavilo se da je ono, što čovek prvo primećuje na ovoj slici, direktno povezano sa njegovim karakterom i trenutnom situacijom.
Podaci, koji su bili prikupljeni nakon nekog vremena, zahtevali su obradu, i bila su potrebna neka istraživanja kako deluje ova slika. Ne verujete? Onda proverite, i uverite se sami!
Dakle, šta ste prvo ugledali? Pogledajte i saznajte šta označava vaš izbor ispod slike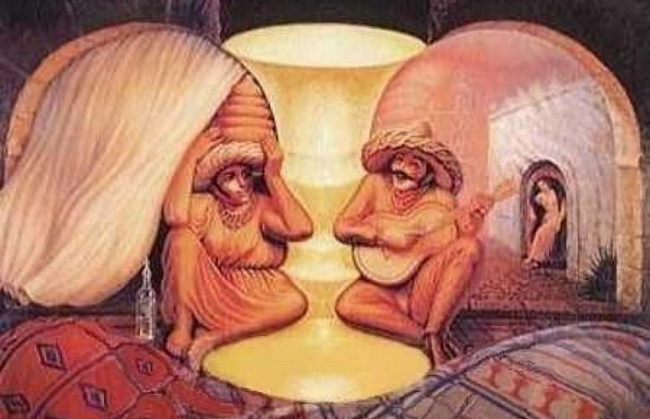 Ako ste na slici ugledali lica dve starije osobe, okrenutih jedno prema drugome:
To govori o tome da su za vas, na prvom mestu, vaši odnosi sa bliskim ljudima. Vama je veoma važno da sa ljudima, koji vam puno znače, bude sve u redu. Takođe, vama je važno i da oni imaju dobro mišljenje o vama.
Ovaj simbol – je simbol tajne. Najverovatnije, primećujete da vam, ponekad, pomažu neke tajnstvene sile. Primetite ovu pomoć i savete! Jer, ovo nije slučajno.
Ako ste ugledali dva muškarca, od kojih jedan svira gitaru:
Vi ste veoma topla, iskrena i prijatna osoba, mada se ispod ovog "pufnastog" odraza skriva  veoma snažan karakter. U poslednje vreme, imate napet period u životu, previše događaja i stresova…  Odmorite se, i pričuvajte se. Jer, baveći se omiljenim hobijem, ili jednostavno, ništa ne radeći, vi prikupljate energiju za nova dostignuća.
Ovaj simbol – je simbol života. Ne dajte životu da ide svojim tokom i radujte se svim prijatnim iznenađenjima, jer vi to zaslužujete. I, najčešće, sreća i uspeh vas neće zaobići.
Ako ste prvo obratili pažnju na druge detalje (devojku, vrata, lampu, krunu):
Prolazite kroz životni period  kad ste 100% kreator svoje Sudbine. Kako poželite – tako će i biti! Samo budite pažljivi u svojim željama, one treba da dolaze iz srca. Ne bojte se napora i poteškoća – sve će vam se isplatiti višestruko. Treba da imate više vere u sebe, jer ste dostojna osoba sa predivnom dušom. Čuvajte ovu svoju dušu, i borite se za svoju sreću.
Ovi simboli – simboli Sudbine, snage, koja meša špil karata vašeg života. Vaša Sudbina je u vašim rukama!