Sigurno ste čuli o hiromantiji – umetnost čitanja sa ruku čoveka sa predviđanjem budućnosti. Hiromanti veruju da je na rukama zabeležen ne samo karakter čoveka , nego i njegovo fizičko i mentalno zdravlje.
Tačnih dokaza istinitosti predviđanja po rukama nema, ali ponekad se javlja želja da pridignemo veo budućnosti.
Predlažemo vam zanimljivu zanimanciju u slobodno vreme: samostalno naučite "čitati" linje na ručnom zglobu.
Šta označavaju linije na ručnom zglobu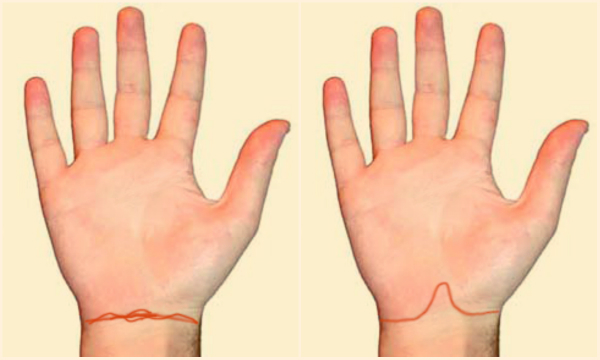 1. Ako je prva linija na zglobu slabo vidljiva i izvijugana, čovek treba da se pobrine o jačanju svog imuniteta i održavanju zdravlja.
Ali, ako se ona diže nagore na ženskoj ruci, to može ukazivati na teškoće ostajanja u drugom stanju, teškoće prilikom  porođaja, i na prepreke na životnom putu. Muškarci sa takvom linijom, takođe, treba da obrate pažnju na svoje reproduktivne funkcije.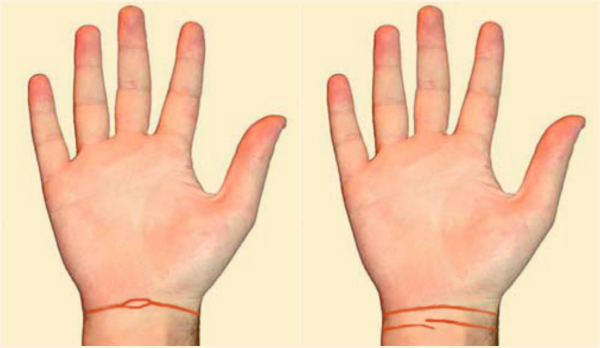 2. "Ostrvo" na prvoj liniji ukazuje na potrebu preispitivanja svojih postupaka, neophodnosti da se okrene duhovnom.
Prekidajuća druga linija svedoči o finansijskim poteškoćama vlasnika ruke: čovek je sklon pogrešnoj raspodeli novca, i periodično će upadati u dugove.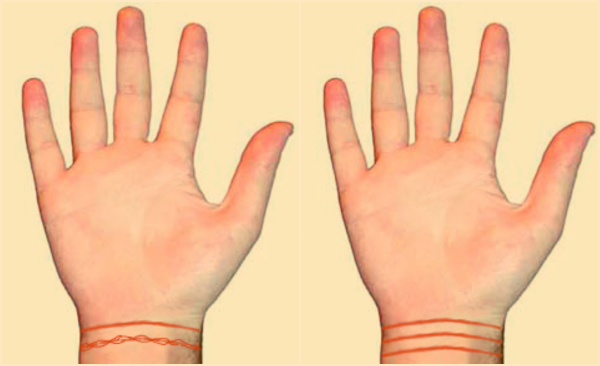 3. Druga linija u obliku lančića govori o rizičnoj prirodi čoveka. Nosiocu takve ruke, novac praktično sam ide u džep, ali on i sa lakoćom može da se rastane sa njim. Nosioci tri jasne linije – pravi su srećnici, njih očekuje dug i bezbedan život.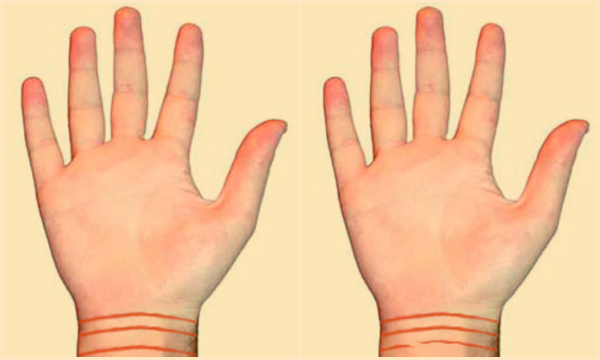 4. Veliko rastojanje između druge i treće linije ukazuje na verovatnoću kasnog braka: ako je rastojanje veće, brak će se desiti kasnije. Udaljenost se može tumačiti i kao svađa sa voljenom osobom ili raskid, ali sa ponovnim zajedničkim životom.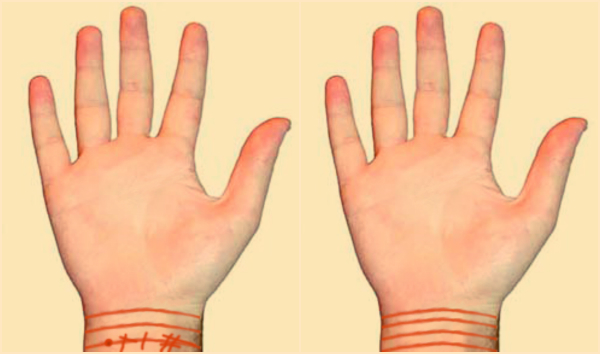 5. U slučaju ako se na trećoj liniji mogu propratiti različite tačke, krstići ili rešetke, preporučuje se da čovek obrati posebnu pažnju na odnos sa svojim partnerom -čuvati ga i brinuti o njemu. To može samo ojačati zajednicu, bez ikakvih prepreka.
Onaj ko zaista ima sreću – jeste taj koji poseduje sve četiri linije na zglobu, oni su dugovečni  i očekuje ih najmanje 90 godina srećnog života.
Ne treba  očajavati ako je na vašem ručnom zglobu samo jedna linija. To znači da je život pred vama, i budućnost zavisi od trenutnih postupaka i donesenih odluka u sadašnjosti. Budite srećni!
Čitajte još: Šta može reći o vama linija srca na dlanu