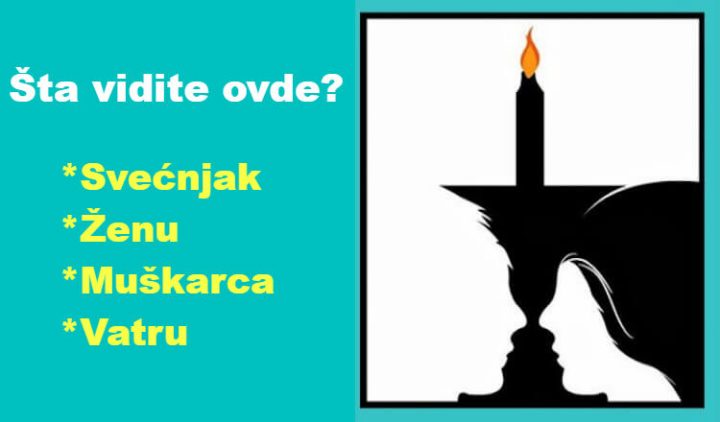 Postoji bezbroj sličnih testova. Ali svaki od njih otkriva novu ili potvrđuje već poznatu karakternu crtu i osobenost čoveka.
Takvi testovi su više nego korisni, jer mogu mnogo toga da kažu o vašim pogledima na život, mogućnostima i ambicijama. Takođe je i prijatno razgledati ovakve testove, jer svake sekunde ugledate još neki element na slici. Šta ste prvo videli?
Šta to znači? Saznajte odmah!
Svećnjak
Vi mislite široko. Vaši su planovi uvek veliki. To je dobro, ali vi često zaboravljate na detalje i nijanse. Dobar ste čovek, s velikim srcem. Veoma često vas ljudi iskorišćavaju, zato bi trebalo da budete pažljiviji. Pažljivo birajte prijatelje, kako biste ubuduće izbegli neprijatnosti.
Ženu
Vi ste nežna i osećajna priroda. Skloni ste idealizaciji života i ponekad ne obraćate pažnju na realni svet. U oblacima ste. S jedne strane to nije loše, jer malo je romantika na svetu. S druge strane, zbog svega toga zaboravljate na realni svet, sa svim njegovim poteškoćama i razočarenjima. Ne zaboravite da se bar ponekad vratite u stvarnost, inače će vam se život pretvoriti u puko pravljenje grešaka.
Muškarca
Mirna ste osoba, s vama se ljudi osećaju prijatno i sigurno, kao iza kamenog zida. Malo pričate, zamišljeni ste i kreativni. Teško vas je izbaciti iz takta. Ali vaši najbliži se često žale da im ne posvećujete dovoljno pažnje. Kako biste ispravili situaciju, činite za njih i najmanje znake pažnje.
Vatru
Razlikujete se od drugih. Vaše mišljenje se odstupa od standardnog. Imate svoj pogled na svet i okolina vas često ne razume. To nije tako strašno. Važno je da sebe ne obmanjujete. Vama je najvažnije da steknete samopouzdanje i tada će sve biti dobro.