Uvek je zanimljivo pratiti kako se kroz vreme menja poimanje ženske lepote, a zajedno s tim i sama lepša polovina čovečanstva.
Mi u Femini smo bili zadivljeni rezultatima vrlo zanimljivog istraživanja, koje je sproveo jedan britanski brend donjeg rublja. Dakle, evo kako su se promenili ideali ženske figure za 60 godina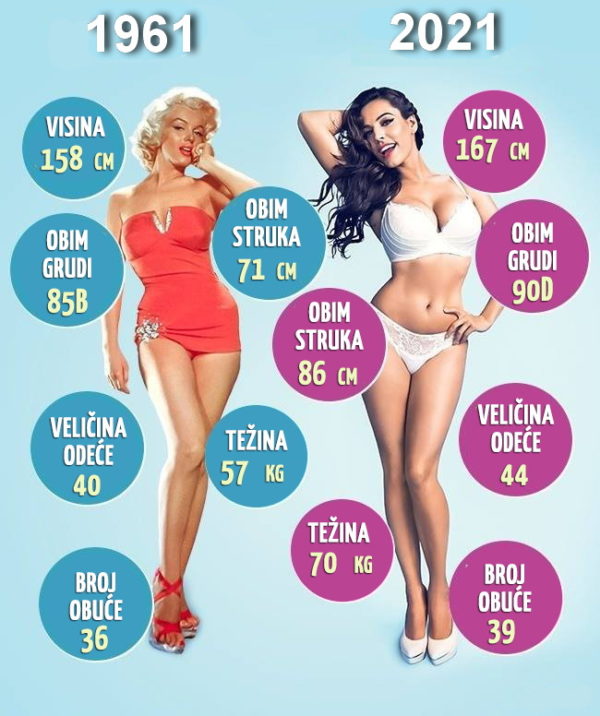 Pa tako, za 60 godina, jedna prosečna žena se ugojila 13 kilograma. To je razumljivo, jer je i porasla za 9 centimetara, a stekla je i privlačnije i bujnije obline.
Ženske grudi su se, u proseku, povećale za 2 broja. 60-ih godina prošlog veka dame su bile minijaturnije i struk im je bio 15 cm uži nego danas, a veličina stopala, kao Palčicina, za 3 broja manja.
Žena iz perioda 1961. je nosila broj odeće 40 (evropski), a 2021. se promenio u 44 (evropski).
Stručnjaci koji su sproveli istraživanja, smatraju da se uzrok krije u promeni kvaliteta života žene. One su počele više da zarađuju, da vode zdrav način života, da se bave sportom i da se bolje hrane.
Na primer, ako je žena 1961. u proseku unosila 1800 kalorija dnevno, 2021. je to oko 2300 kalorija; pa tako današnje lepotice mogu samo da budu srećne zbog ovih izmena.
Zapravo: Evo kako treba da izgleda idealna ženska figura.