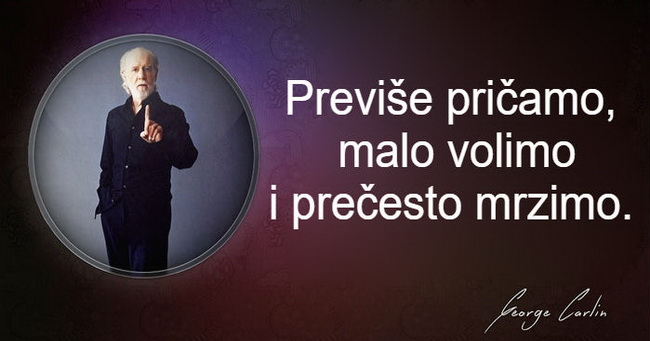 Džordž Karlin jedan je od najciničnijih komičara, koji je uvek izazivao protivrečna osećanja. Govorio je samo istinu, ali u obliku koji nije mogao da izazove oštre reakcije.
Međutim, ipak je bio potpuno u pravu: iza maske cinizma skriva se istina o životu:
♦ Znamo kako da preživimo, ali ne znamo kako da živimo.
♦ Dopada mi se kada vidim kako cvetić ili busen trave prorasta kroz pukotinu u betonu. To je tako prokleto herojski.
♦ Mislim da bi trebalo uvesti vruću telefonsku liniju čiju slušalicu nikad niko neće podizati, a bila bi namenjena onima što nikad ne žele da poslušaju savet.
♦ U životu je sve jednostavno: sreća u potpunosti zavisi od gena i toga da li će nam se osmehnuti sudbina. Dakle, sve se svodi na gene i sudbinu. A kada malo bolje razmislimo – i geni su stvar sudbine.
♦ Pravo je nešto što niko ne može da nam oduzme. Ono je privilegija.
♦ Postoji veliki broj ljudi koji brinu zbog bezbednosti nuklearnih elektrana a ne vezuju pojas dok voze automobil.
♦ Ljudi koji posmatraju život kao nešto više od zabave nisu spoznali suštinu.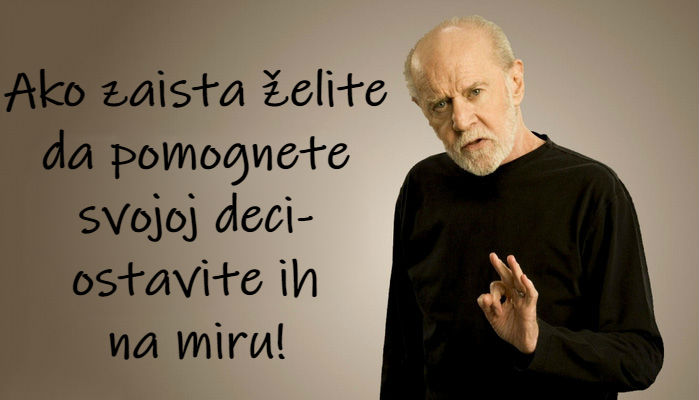 ♦ Sve je u redu s planetom. S ljudima se dešava s*anje!
♦ Nedavno sam shvatio zašto nam je potreban e-mail. Da bismo komunicirali sa onima s kojima ne želimo da razgovaramo.
♦ Svaka treća osoba na planeti pati od neke mentalne bolesti. Zapitajte se da se ne radi o dva vaša najbolja prijatelja. Ako je s njima sve u redu, onda mora da ste vi ta osoba.
♦ Kuća je mesto gde skladištimo smeće dok se nalazimo van kuće kako bismo zaradili za još više smeća.
♦ Šta je vrlina egoista? To što ne pričaju o drugim ljudima.
♦ Ako su sva deca genijalci, zašto iz njih izrastaju prosečni ljudi?
♦ U svakom ciniku čuči razočarani idealista.
♦ Recite ljudima da na nebu postoji nevidljiva osoba koja je stvorila vasionu i većina će u to poverovati. Recite im da se boja još nije osušila, i oni će u nju zabosti prst da bi se uverili.
♦ Previše pričamo, malo volimo i prečesto mrzimo.
♦ Živite kao da je ovaj dan poslednji i jednom će se to i desiti. Ali vi ćete biti potpuno spremni za to.
♦ Razgovaram sam sa sobom jer sam jedina osoba na svetu čiji mi se odgovori dopadaju.
♦ Tek što smo se približili razumevanju smisla života, a već su ga promenili…