Mi analiziramo sve redom, čak i kada nismo toga svesni, ali zato u snu dobijemo sve rezultate. Podsvest mora da nađe lak put da bi doprla do nas. Ako čovek veruje da je rakun koji jaše mačka dobar znak, to znači da će podsvest iskoristiti taj znak. A ako čoveka ne interesuju snovi i snoviđenja, onda podsvest traži lakši put.
Femina je prikupila najkraće puteve, prečice, koje podsvest koristi kako bi došla do nas.
7 snova koje najčešće sanjamo i šta oni znače
Padanje
Nesigurna budućnost, strah da ćete pretrpeti neuspeh, osećaj bezizlaznosti, neophodnost da se donesu sudbonosne odluke, – sve ovo utiče na snove. Kao rezultat toga mi vidimo sebe kako padamo s visine. Padanje je simbol bespomoćnosti. Ništa se ne može promeniti, kada radi gravitacija.
Letenje
U snu lete ljudi koji osećaju potpunu kontrolu nad situacijom. Oni u pravom smislu reči "lete" iznad problema. Nekada osoba ima osećaj da leti veoma visoko, i to izaziva strah kod nje. To se dešava kada čovek oseća da je izašao iz "zone prijatnog" i nije siguran da će se izboriti s tim.
Ispit
Danas polažem ispit.
Iz čega?
Ne znam još, kad odem na fakultet, kolege će mi reći.
Kada sanjate ispit, to znači da trenutno prolazite kroz vrlo važan period. Moguće je i da ne verujete u sebe i svoje mogućnosti i podsvesno iščekujete neuspeh. Ovakve snove često sanjaju upravo studenti. Uzrok je, naravno, briga.
Smrt
Postoji mnogo uzroka zašto sanjate svoju ili vama bliskih ljudi smrt: briga i strah za bližnje, koji se nalaze u teškoj situaciji, briga za sopstveni ili tuđ život. Takođe, uzrok može da bude i prelazni period u vašem životu i mučno iščekivanje nadolazećih promena.
Proganjanje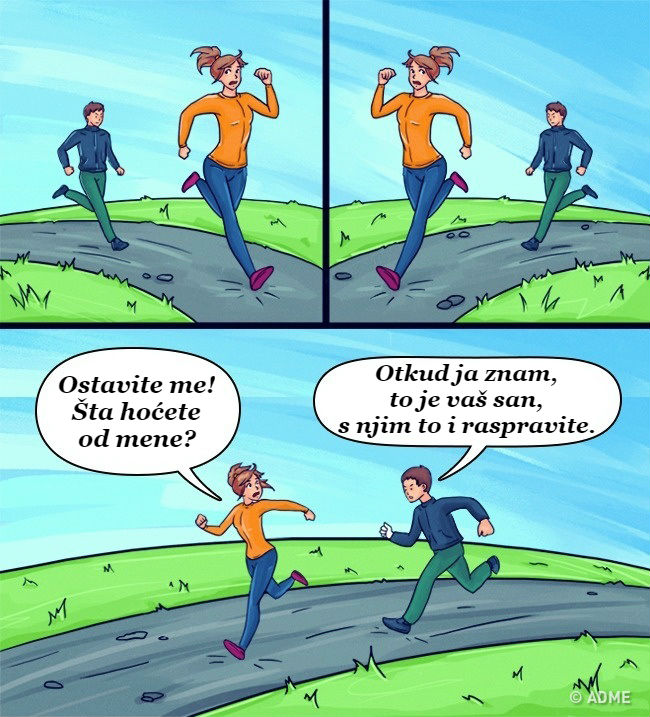 Gomila nerešenih problema nam ne daje mira tokom dana i prati nas u stopu prema carstvu Morfeja. Ljudi koji su pod nekim uticajem, mogu da sanjaju kako beže i kriju se od nekoga. Ali ima i drugih uzroka. Moguće je da je to i odraz realnih dešavanja koja ih brinu ili snažnog utiska, koji je na vas ostavio neki film.
Goli ste
Kakav čudan osećaj…
Dođavola, opet taj prokleti san!
Ono što osećate tokom sna u kome ste nagi, vrlo je važno. Ako osećate strah, zbunjenost, sramotu, to znači da vas muči neki problem, zbog koga se osećate bespomoćno, ili niste spremni na neke promene koje očekujete. Ako vas nagost u snu asocira na slobodu, onda ste vi u psihološkom smislu otvoreni za promene.
San u snu
Ujutro ustajete, oblačite se, doručkijete i idete na posao. Tada zvoni budilnik, i shvatate da je to bio san. Sećate li se tog osećaja neprijatnosti, zbog rastanka s jastukom? To ćete morati opet da preživite. Isto kao i radni dan, koji se ni po čemu ne razlikuje od prethodnih. Ovakvi snovi se javljaju onima koji su zašli u rutinu.
Svi odgovori su u našoj glavi. Jedino što je važno je da se dobro naspavamo.