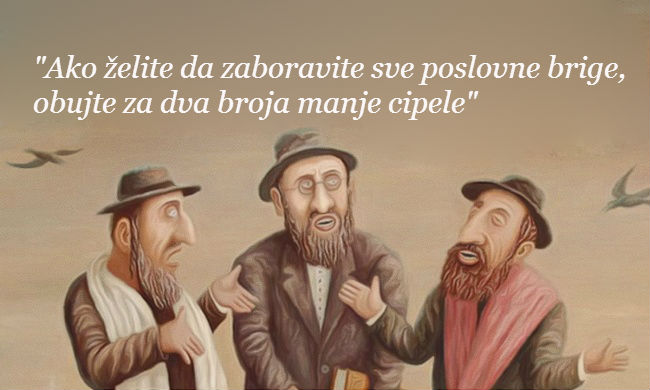 Jevrejski narod je mudar. O pronicljivom umu Jevreja govore i legende – i to sa razlogom. Oštroumne i duhovite izreke i poslovice "dece Mojsija" pomažu boljem razumevanju mudrosti ovoga sveta.
Pa, vi prosudite i sami:
♦ Adam – prvi srećnik na ovome svetu, jer nije imao taštu.
♦ Ako se problem može rešiti novcem, onda to nije problem, već – trošak.
♦ Boj se jarca odnapred, konja – otpozadi,  i budala sa svih strana.
♦ Čovek mora da živi barem zbog radoznalosti.
♦ Roditelje uče decu da govore, deca roditelje uče da ćute.
♦ Možda su jaja mnogo pametnija od kokošaka, ali ona se brzo pokvare.
♦ Muškarci bi više posla uradili, kad bi žene ćutale.
♦ Teže je dobro ćutati, nego dobro govoriti.
♦ Loša žena je gora od kiše: kiša tera u kuću, a loša žena iz kuće.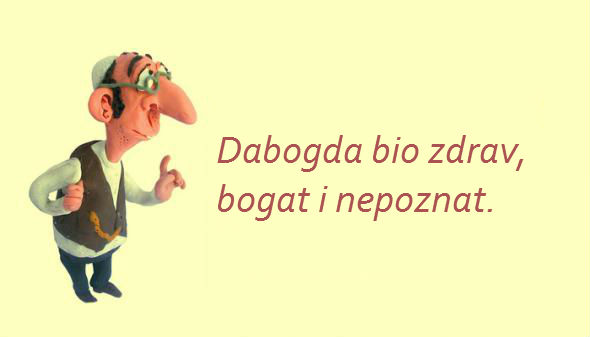 ♦ Bože, pomozi mi da se dignem na noge – pasti mogu i sam.
♦ Ako se život ne menja nabolje – sačekaj – promeniće se nagore.
♦ Kakva god da je  slatka ljubav, džem od nje nećete skuvati
♦ Birajući između dva zla, pesimista će odabrati oba.
♦ Svi se žale na manjak novca, na manjak mozga- niko.
♦ Ko decu nema, dobro ih vaspitava.
♦ Iskustvo  je reč kojom ljudi nazivaju svoje greške.
♦ Seda kosa – znak starosti, a ne mudrosti.
♦  Sa novcem u džepu vi ste mudri, vi ste lepi i lepo pevate.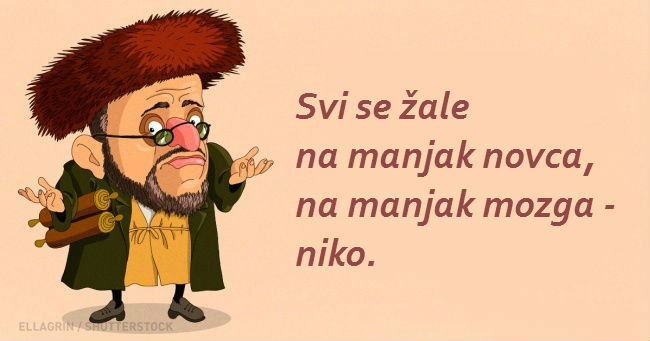 ♦ Stareći , čovek vidi lošije, ali više.
♦ Gde Đavo ne može sam, on tamo pošalje vino.
♦ Čast je kao mleko: uprlja se od najmanje trunčice.
♦ Prvo pijemo vino, zatim vino pije vino, i najzad, vino pije nas.
♦ Ako imaš gorčinu u srcu, šećer u ustima neće ti pomoći.
♦ Neka vas Bog čuva zlih žena, a dobrih se čuvajte sami.
♦  Kada izgleda da nema izlaza iz neke situacije, imaju bar četiri.
♦ Mudar čovek čuje jednu reč, a razume dve.
♦ Nauči da ćutiš, kako bi znao da govoriš.
Čitajte još: 20 jevrejskih poslovica: mudrost za sva vremena.