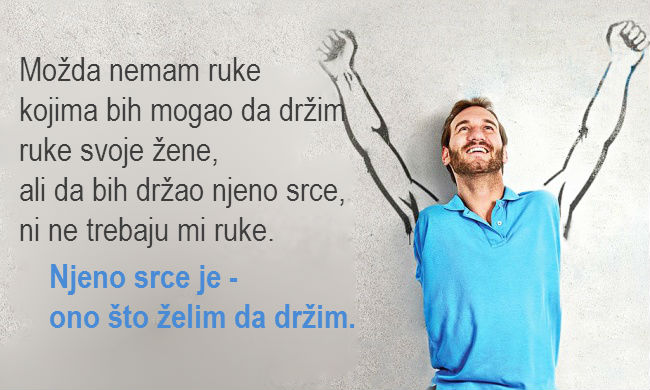 On je rođen sa retkim oboljenjem – bez ruku i nogu. Nik Vujčić je dugo učio biti srećan, bez obzira na okolnosti.  I uspeo je.
Danas, njegova hrabrost daruje nadu drugima – ne samo takvima kao on, nego i svim zdravim ljudima.
Prikupili smo nekoliko njegovih citata iz njegove knjige "Živeti slobodno".
Ovaj čovek ima šta reći o veri u sopstvene snage:
♥ Šta vi mislite da treba da izaberem: da budem ljut na Boga zbog onoga što ja nemam ili da mu budem zahvalan za ono što vi imate?
♥ Moj cilj je da vas ohrabrim da prebrodite svoje probleme i teškoće, da biste mogli da pronađete svoj put do srećnog života. Odreknite se života sa samosažaljevanjem u zamenu za život sa svrhom.
♥ Zapamtite – akcija izaziva reakciju. Kada ste u iskušenju da napustite svoje snove, naterajte sebe da pokušate još samo jedan dan, jednu nedelju, još jedan mesec, još jednu godinu… Bićete iznenađeni onim što se dešava kada konstantno odbijate da odustanete.
♥ Izazovi postoje da bi ojačali naša uverenja, a ne da bi nas pregazili.Nije kraj sve dok vi tako ne odlučite.
♥ Ako ne možete da dobijete čudo, postanite jedno.
♥ Kad vam se čini da vas srećni trenuci zaobilaze, stvorite sami takav trenutak.
♥ Nikada nisam sreo ogorčenu osobu koja je bila zahvalna. Niti zahvalnu koja je bila ogorčena.
♥ Nisu bitni neuspesi, već da li ih prevazilazite.
♥ Motivacija vas vodi kroz dan, ali inspiracija vas vodi kroz život.
♥ Možda nemam ruke kojima bih mogao da držim ruke svoje žene, ali da bih držao njeno srce, ni ne trebaju mi ruke. Njeno srce je ono što želim da držim.
♥ Postoje dve vrste promena koje imaju tendenciju da poremete način života na koji smo navikli. Prve su promene koje se dešavaju nama. Druge su one koje se dešavaju bez nas. Prve ne možemo kontrolisati, ali možemo i trebamo da kontrolišemo ove druge.
♥ Strah je veći invaliditet nego nemati ruke i noge.
♥ Nije kraj sve dok vi tako ne odlučite.
♥ U čemu je poenta biti potpun spolja, ali prazan iznutra?
♥ Rizik nije samo deo života. Rizik je sam život. Između zone udobnosti i zone vaših snova je mesto na kojem se odigrava vaš život. To je zona visoke anksioznosti, ali i mesto na kojem otkrivate ko ste.
♥ Sve što bi uradio za sebe, uradi za druge. Ako bi mali čin saosećanja postao tvoja svakodnevna navika, osećao bi se jačim i oslobođenim od svojih boli i razočarenja. Ne treba očekivati korist od velikodušnih dela, ali dobra dela te mogu dovesti do iznenađujućih nagrada.
♥ Sindrom "Bio bih srećan kada bih imao to i to" je masovna obmana. Ako tražite sreću u običnim stvarima, nikada je nećete imati dovoljno. Prvo pogledajte oko sebe, pa onda pogledajte iznutra.
♥ Svako od nas se nada da će njegovo znanje i talenat koristiti nečemu većem od samog plaćanja računa.
♥ Ako ne možete da dobijete čudo, postanite jedno.
♥ Život je priča koju sami pišete.