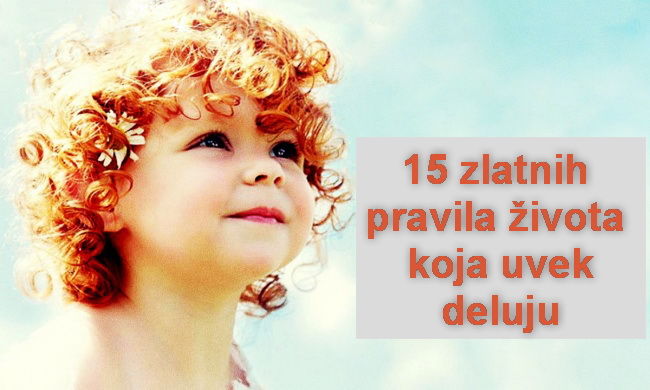 Naša budućnost zavisi od odluka koje donosimo danas, od izbora, koje  činimo u svakom trenutku svog  života.
Možete provesti sve dodeljeno vreme u prazno, i po navici činiti jedan te isti izbor, dan za danom, a možete da se saberete, i isfokusirate svoju pažnju na to što je zaista važno za vas. Tome pomažu jednostavne istine, koje, naizgled poznate svima, ali malo ko ih primenjuje u praksi.
Predlažemo da ih se podsetite,  s vremena na vreme:
– Ne pokušavajte da povredite čoveka, čak ni u ozbiljnoj svađi. Verovatno ćete se pomiriti, a izgovorene reći ostaće dugo zapamćene.
– Nikad ne opraštajte izdajnicima. Oni se ne menjaju.
– Govorite istinu, onda nećete morati ništa da pamtite.
– Ne smejte se tuđim snovima. Mislite o svojim.
– Ako ste iznenada dobili ideju – obavezno je zapišite.
– Ne možete doći na vreme, kasnite? Obavezno javite, nije to teško uraditi.
– Ne širite glasine, ne učestvujte u tračarenju u društvu. Zapamtite, ovi isti ljudi mogu širiti glasine i o vama.
– Budite u stanju da priznate svoje greške. Ne greši samo taj, koji ništa ne radi.
– Ne žalite se. Predočen problem nije za kukanje, treba tražiti rešenje.
– Krećite se uprkos svemu. Ne zaustavljajte se na postignutom, i ne sedite skrštenih ruku.
– Na početku dana uvek uradite najteži i najneprijatniji posao. Neće vas uznemiravati nepotrebne misli u drugom delu dana, nakon što ste to uradili.
– Televizor – uvek bespotrebno gubljenje vremena. Nemojte ga gledati.
– Pokušavajte ne pozajmljivati novac. Dugovi su kao zamka: upasti je lako, ali teško se izvući.
– Ljubaznost je uvek dobrodošla. Ona je jeftina za nas, i uvek je mnogo cenjena od strane drugih.
– Ne živite od stare slave, ili od davnih neuspeha.Vaša prošlost ne odeređuju vašu budućnost.