Dalaj Lama (Tenzin Gjatso) je mudar i svetao, njegovi životni principi su jednostavni i jasni. On pomaže hilajdama ljudi da razjasne životne ciljeve i da poveruju u sebe. Uprkos razlici u jezicima, njegove izreke su razumljive svima, zato što on govori jezikom srca.
Predlažemo vam da na svet gledate očima Dalaj Lame i usvojite ono što on pokušava da nam prenese:
♥ Svrha života – da budemo srećni. Mi ne znamo šta će se desiti u budućnosti, ali naše srce živi u nadi. To je ono što nam pomaže da se krećemo dalje.
♥ Prosperitet dolazi zahvaljujući akciji, a ne zahvaljujući molitvama.
♥ Arogancija nikad nije opravdana. Ona dolazi iz niskog samopoštovanja, ili privremenih, površnih dostignuća.
♥ Kad čovek misli da u njegovom životu sve ide nizbrdo, u njegov život pokušava da uđe nešto prekrasno.
♥ Tišina je nekad najglasniji odgovor.
♥ Ljudi su bili stvoreni da budu voljeni, a stvari su bile stvorene da ih koriste. Svet je u haosu zato što je sve obrnuto.
♥ Tema saosećanja nema nikakve veze sa religijom. To je opšteljudski, jedini uslov za opstanak ljudske rase.
♥ Ako možes pomoći – pomozi. Ako ne, barem ne čini štetu.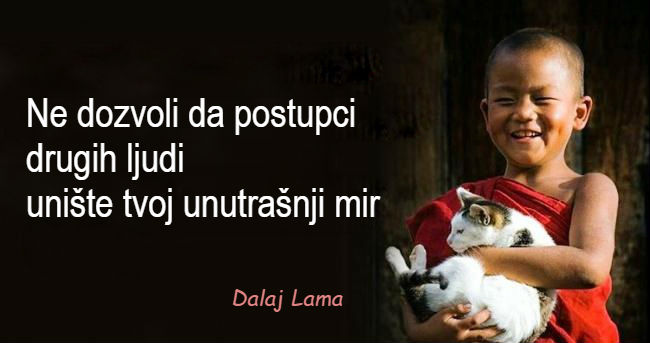 ♥ Naši neprijatelji pružaju nam odličnu priliku za vežbanje strpljenja, istrajnosti i saosećanja.
♥ Ne zaboravi da je najbolja veza ona u kojoj vaša uzajamna ljubav prevazilazi vašu uzajamnu potrebu.
♥ Smatram da je, zaista, prava religija – dobro srce. Moja religija je jako jednostavna. Moja religija je – dobrota.
♥ Živite dobar i častan život. Tako ćete u starosti, kada se budete prisećali, uživati u njemu po drugi put.
♥ Velike promene počinju od pojedinca; u osnovi mira u celom svetu leži unutrašnji spokoj i mir u srcu svakog pojedinca. Svako od nas može dati doprinos.
♥ Svako od nas je odgovoran za celo čovečanstvo. U tome je moja jednostavna religija. Nema potrebe za hramovima, nema potrebe za komplikovanom filozofijom. Naš vlastiti um  – to je naš hram; naša filozofija je – dobrota.
Na kraju vam prenosimo jednu od najdirljivijih misli za čovečanstvo. Kada su ovog velikog učitelja pitali šta je to na ovom svetu što ga je najviše iznenadilo, on je odgovorio:
Čovek. Zato što žrtvuje svoje zdravlje da bi napravio pare, a onda žrtvuje pare pokušavajući popraviti svoje zdravlje. A onda je toliko nervozan zbog budućnosti, zbog čega ne uživa u sadašnjem trenutku. I rezultat svega toga je to što čovek ne živi ni u sadašnjosti ni u budućnosti. On živi kao da nikada neće umreti, a na kraju umre, a da nije ikada istinski živeo.