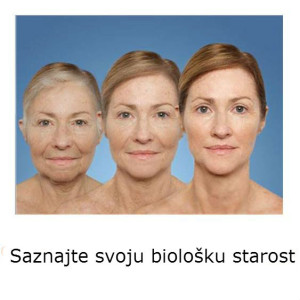 Bioloska starost – to je prava starost ljudskog tela. Pokazuje nam koliko smo stari zaista. Njen casovnik otkucava u nasim celijama, ali i ne definise nase podatke u licnim dokumentima. Ponekad, bioloska starost osobe daje pravu sliku o njegovom zdravstvenom stanju i da li je vreme da se pocne sa odbrojavanjem natrag u mladost.
Slozicete se sa mnom da i u 30 godina covek moze izgledati kao "olupina", a u 50 biti dobrog zdravlja i imati odlican kapacitet za rad. Najbolji tacan pokazatelj je – bioloska starost. Naucnici su dokazali da hronoloska starost navedena u nasim licnim dokumentima ne odgovara broju godina koliko zaista imate, to jest, bioloskoj starosti.
Psiholoski mozete biti mnogo starije, ili obrnuto – mladje. To sve zavisi od toga kako se zaista osecate i kakav nacin zivota zivite.
Naravno, postavlja se logicno pitanje – kako pronaci tacnu formulu za utvrdjivanje nase bioloske starosti. U medicinskim izvorima preporucuje se uraditi sledece testove sa obavljanjem ovih zadataka:
1. Izmerite svoj puls (otkucaje srca). Onda uradite 30 cucnjeva brzim tempom. Izmerite puls ponovo, pa obratite paznju na razliku. Upisite je. Ako se vas puls povecao za:
0-10 jedinica – imate 20 godina
10-20 jedinica – imate 30 godina
20-30 jedinica – imate 40 godina
30-40 jedinica – imate 50 godina.
2. Test za otkrivanje bioloske starosti br. 2
Dakle, cvrsto stisnite palac i kaziprst na unutrasnju stranu ruke, kod pregiba gde merimo puls (iznad sake), drugim recima – potrebno je ustinuti sebe na 5 sekundi. Za tacne rezultate mozete koristiti stopericu. Dalje, otpustite prste i utvrdite za koliko sekundi boja vase koze vratila se u prvobitno stanje:
za 5 sekundi – vama je skoro 30 godina
za 8 – oko 40 godina
za 10 – oko 50 godina
za 15 – vama je blizu 60 godina
3. Sledeci test za utvrdjivanje bioloske starosti sa malo gimnastike.
stanite uspravno, savijte kolena i nagnite se napred. Probajte u ovoj poziciji dlanovima dodirnuti pod. U principu, ovo nije tesko. Procenjujemo rezultate:
ako ste stavili dlanove u potpunosti na pod – vas bioloski uzrast 20-30 godina
dodirujete pod prstima – vama je 40 godina
dodirujete svoje potkolenice – vama je 50 godina
dodirujete samo kolena – vama je 60 godina
4. Sada najtezi zadatak.
Zazmurite, stajte na levu pa na desnu nogu. Mozete balansirati rukama ali nije dozvoljeno drzati se ni za sta. Pokusajte da ostanete u tom polozaju. Neka neko iz porodice izbroji koliko cete sekundi ostati u tom polozaju:
30 i vise – vasa bioloska starost – 20 godina
20 sekundi – 40 godina, manje od 10 – 60 i vise godina
Ako niste zadovoljni rezultatima – pocnite konacno da brinete osvom zdravlju. Pocnite barem sa jutarnjom gimnastikom. Posle nekog vremena test na biolosku starost ponovite ponovo. I onda mozda vasa fizicka starost ustupi mesto bioloskoj.
[ratings]