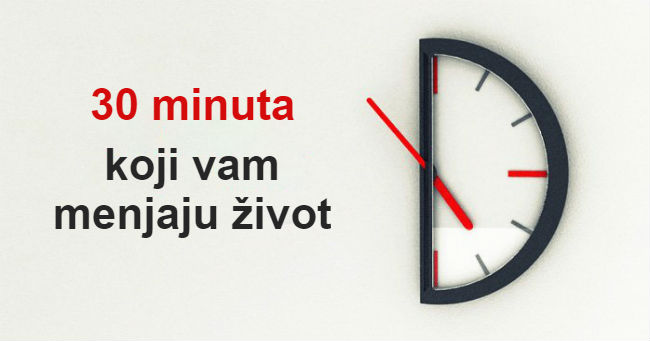 Glavni razlog neuspeha je nedostatak strpljenja. Ovaj razlog, uz neodoljivu želju da se odmah dođe do rezultata i ispune sve želje, u osnovi su većine neuspeha. A u stvarnosti, za uspeh treba vremena. Za veliki uspeh treba mnogo vremena.
Ričard Brenson nije postao milioner preko noći. Madona se nije samo jednog jutra probudila i postala kraljica pop muzike. Dejvid Bekam se nije pretvorio u vrhunskog fudbalera posle nekoliko treninga.
Međutim, postoji način koji pomaže svakome i u svakoj situaciji. Većina ljudi ga zna, ali nikada ne koristi. Zašto? Mnogo je lakše sačekati da vam svet sam padne pred noge. Ali svet po pravilu ne žuri da to učini.
Zato primenite ovaj jednostavan metod, koji će vas sigurno dovesti do uspeha. Zove se "teorija pola sata". Njegova prednost je u tome što je pogodan apsolutno za sve i može se lako uključiti u bilo koji raspored.
Opšta ideja je da svaki dan pola sata odvojite za jednu malu radnju, a zatim je usložnjavate, što se više usavršavate.
Izgleda suviše prosto, zar ne? Ali bićete iznenađeni koliko ljudi govori kako je ovo banalno, a da to nikada nisu isprobali. Možete da, recimo, svakodnevno provedete pola sata u čitanju.
Glupost, zar ne? Ali na ovaj način ćete u roku od godinu dana pročitati oko 24 knjige, a to je više nego što većina ljudi pročita za deset godina!
Pola sata dnevno možete posvetiti učenju stranog jezika ili sticanju drugih korisnih veština. Stičite temeljno znanje o temi koja vas zanima, steknite iskustvo koje vam nedostaje. Iskoristite pola sata svakog dana da ostvarite svoj životni san.
Radite ono što ste stalno odlagali za kasnije, zbog nedostatka vremena. Posle izvesnog vremena primenjivanja "polusatne teorije", recimo za pola godine, osvrnite se i setite od čega ste počeli.
Bićete zapanjeni koliko ste napredovali na svom putu – za samo 30 minuta na dan! I setite se, već radite mnogo više od ostalih.