Nedostatak kretanja, štetne grickalice i stalni boravak za kompjuterom – sve su to atributi kancelarijskog načina života, koji pre ili posle utiču na zdravlje. Femina je za vas izdvojila pet vrsta korisnih namirnica, koje treba da ukljičite u ishranu, ako radite sedeći.
1. Za oči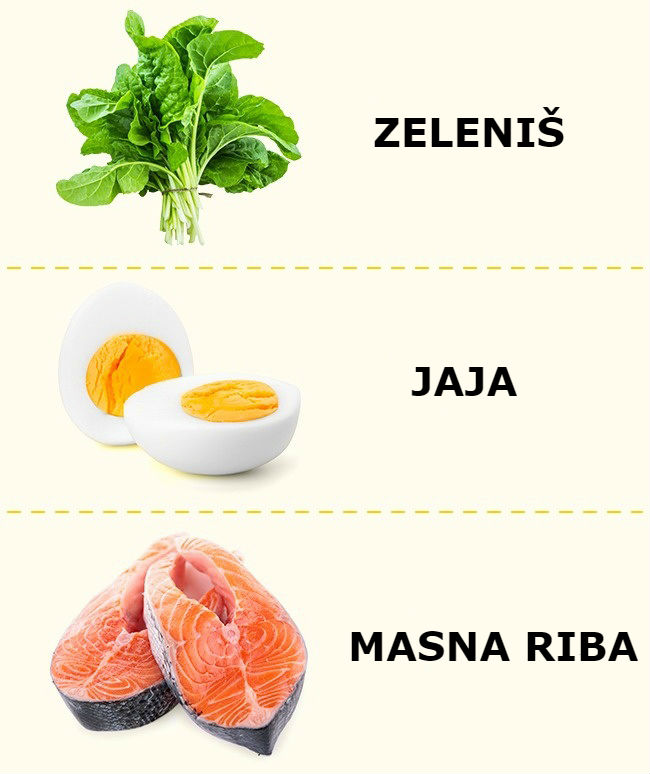 Uprkos tome što je tehnika daleko napredovala, rad na kompjuteru vam oštećuje oči, bar utoliko što ih stalno naprežete.
Zdravlje vaših očiju sačuvaće namirnice koje sadrže omega-3 masne kiseline, lutein, cink i vitamine A, C i E:
♦ zeleniš (zelena salata, spanać, kupus)
♦ jaja
♦ citrusi
♦ orašasti plodovi i semenke
♦ masna riba (losos, tuna, skuša, pastrmka).
2. Za jačanje imuniteta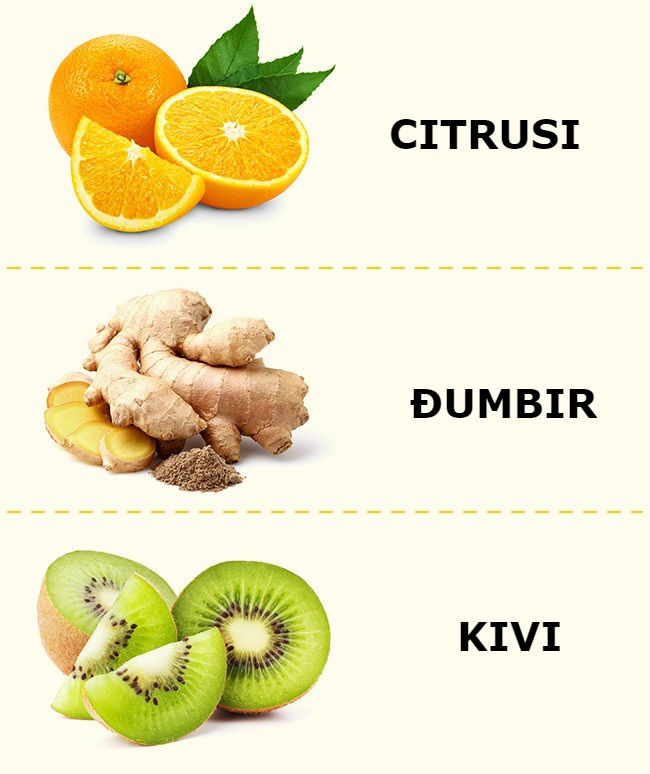 Zbog velikog broja ljudi koji sede u zatvorenom prostoru, kancelarija je idealno mesto za širenje bakterija i virusa. Zato nije čudo što jedna prehlađena osoba lako može da zarazi sve oko sebe.
Da biste to sprečili, pored opštih mera zaštite, uključite u svoju ishranu namirnice koje jačaju imunitet:
♦ citruse
♦ crvenu papriku
♦ brokoli
♦ beli luk
♦ đumbir
♦ kivi
♦ papaju
3. Za ubrzavanje metabolizma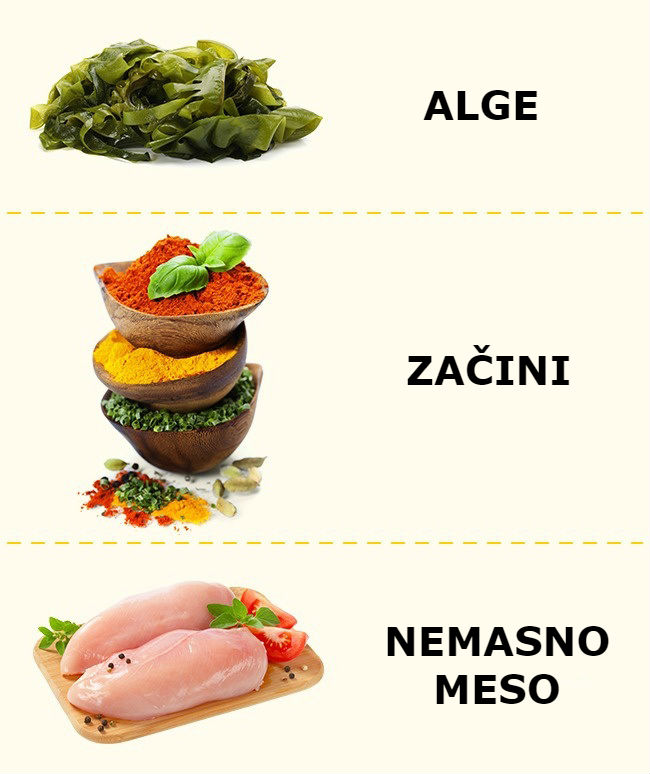 Što je bolji metabolizam, to više kalorija sagoreva. To je posebno važno za kancelarijske radnike, koji veći deo dana provode sedeći.
Ove namirnice će vam ubrzavati metabolizam i pomoći da održite idealnu težinu:
♦ alge
♦ kafa
♦ čaj
♦ začini (đumbir, aleva paprika, kardamon)
♦ mahunarke
♦ posno meso (piletina, ćuretina)
4. Za mozak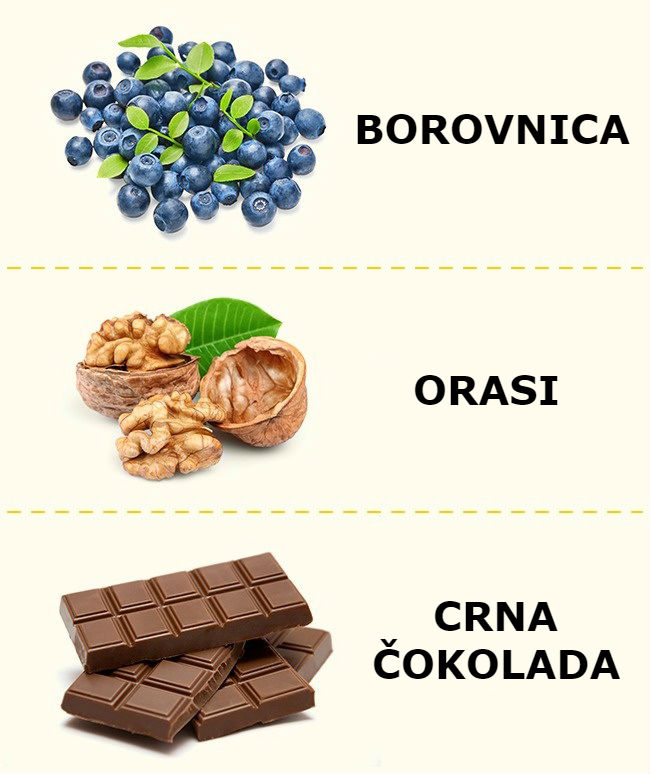 Pravilna ishrana je važna ne samo za fizičko zdravlje, već i za zdravlje mozga – koji je, kao što znamo, glavni "alat" kancelarijskih radnika.
Ove namirnice pomažu u radu sive moždane mase i usporavaju promene koje nastaju starenjem:
♦ masna riba (losos, pastrmka)
♦ borovnice
♦ orasi i semenke
♦ namirnice bogate vlaknima (ovsena kaša, integralni hleb, integralni pirinač)
♦ sok od nara
♦ crna čokolada
5. Za creva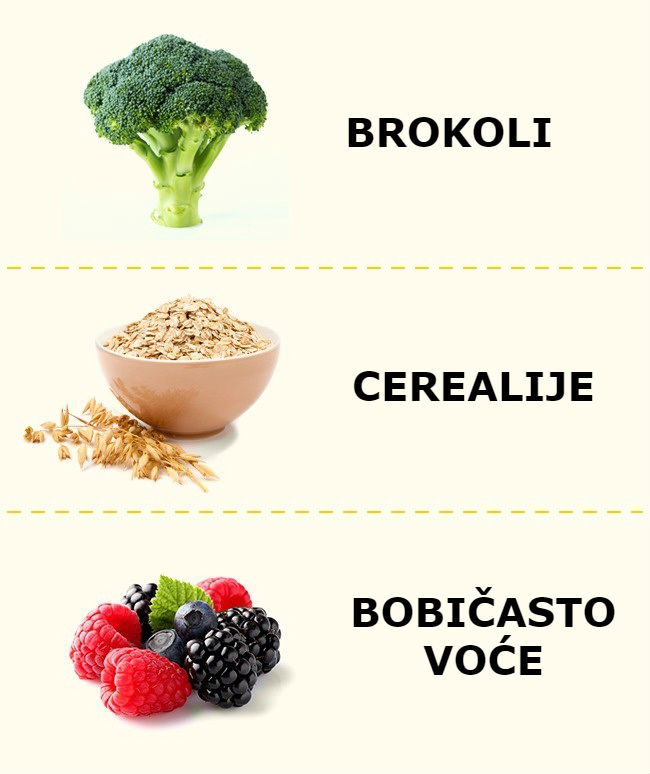 Prema američkim istraživanjima, sedeći posao u trajanju od deset ili više godina udvostručuje rizik od raka debelog creva.
Prevenciju čine redovno vežbanje (uključujući vežbe tokom radnog dana) i pravilna ishrana, koja uključuje sledeće namirnice:
♦ brokoli
♦ spanać
♦ citruse
♦ bobičasto voće|
♦ hranu bogatu vlaknima (ovsena kaša, hleb, integralni pirinač)
Stručnjaci savetuju da ograničite konzumiranje crvenog mesa i mesnih prerađevina, kao što su salame i kobasice, zato što takve namirnice povećavaju rizik od pojave karcinoma.