Umeće odabira kvalitetne i lepe obuće može se uporediti sa pravim umetničkim talentom..
Pre odlaska u prodavnicu moramo imati jasnu predstavu kakve cipele želimo, i strogo se pridržavati  pravila da ne kupujemo obuću samo zbog dopadljivog izgleda. Pripremili smo za vas nekoliko delotvornih saveta na koje je poželjno obratiti posebnu pažnju prilikom kupovine nove obuće.
Evo, na šta morate posebno obratiti pažnju kada kupujete nove cipele
OBLIK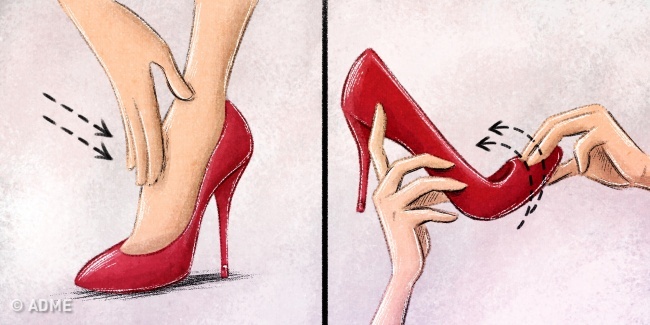 ♦  Deo za prste i peta moraju da zadrže svoj oblik. Kada stisnete i pustite cipelu, one ne sme da ostane deformisana. Štikla mora biti kruta – ako je meka, ona će brzo ulegnuti, zbog čega će vam biti užasno neprijatno da hodate.
♦ Birajte veličinu cipele na osnovu veličine vašeg većeg stopala. Verovali ili ne, svi ljudi imaju jedno stopalo malo veće od drugog. Zato bi trebalo da probate nekoliko različitih veličina i izaberete onu u kojoj vam se oba stopala osećaju udobno.
♦ Stabilnost je obavezna karakteristika na koju morate obratiti pažnju. Ako isprobavate cipele sa visokom štiklom, pritisnite središnji deo stopala. Ako štikla sklizne unazad, ne bacajte pare na te cipele, jer ćete osim novca potrošiti i gomilu nerava – uz takve cipele gratis dobijate klimav hod i konstantno gubljenje ravnoteže.
♦ Obratite pažnju i na fleksibilnost đona. Uzmite cipelu i savijte deo za prste ka delu za petu. Ako je đon nedovoljno fleksibilan, sprečiće zglobove stopala da se pomeraju normalno, što dovodi do poremećaja hoda, brzog zamaranja i trošenja mnogo energije za hodanje.
♦ Nikako ne bi trebalo da kupujete cipele koje vam stežu stopalo u nadi da će vremenom popustiti i da ćete moći da ih nosite. To može dovesti do problema sa cirkulacijom i funkcijom mišića. Takve cipele brzo gube svoj reprezentativni izgled.
PROBA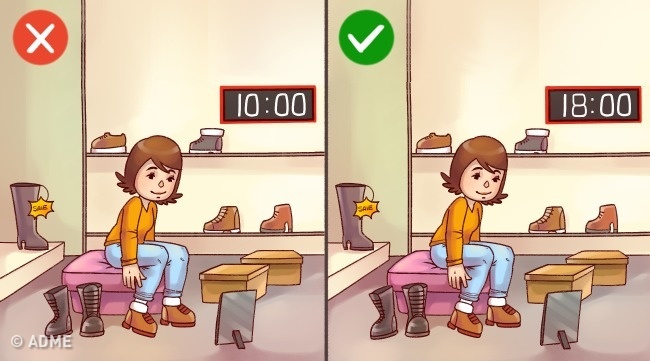 ♦ Cipele kupujte u kasno popodne. Kako se bližimo kraju dana, naša stopala blago otiču. To znači da par cipela koji nam je savršeno odgovarao ujutru, uveče će početi da nas steže. Sasecite ovaj problem u korenu i izaberite cipele koje ćete moći da nosite ceo dan.
♦ Uvek proverite nove cipele iznutra rukom. Unutrašnjost bi trebalo da bude meka, bez grubih šavova. Uložak bi trebalo da bude savitljiv i da se lako vadi.
♦ Kada isprobavate nove cipele, napravite nekoliko koraka i na tvrdoj površini. Na mekom tepihu sve cipele deluju udobno. Da biste imali bolju predstavu, siđite sa tepiha i hodajte po podu.
ŠTIKLA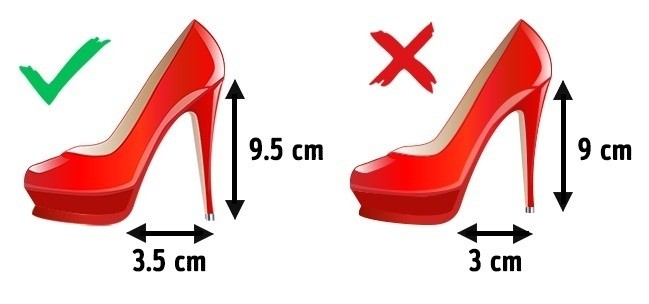 ♦ Ako razmišljate o kupovini cipela sa visokom štiklom, njena maksimalna visina bi trebalo da bude 9,5 cm. Prihvatljiva udaljenost između đona i štikle ne sme biti manja od 3 cm. Što je manja udaljenost, manja je i stabilnost štikle i veći je pritisak na prstima.
♦ Zapamtite i da stopala vremenom mogu postati blago duža i šira, pa ih merite na svake dve godine, a naročito ako kupujete cipele preko interneta.
♦ Kod kupovine cipela sa visokom štiklom, presudno je da vam stopalo ne klizi ka napred. Vremenom, kako ih budete nosili, kliziće sve više, pa može doći do lomljenja pete.
♦ Ako cipele imaju produženi deo za prste, trebalo bi da imaju 1-2 cm slobodnog prostora u prstima.