Samo 1 minuta –  da biste shvatili na čemu vam je potrebno više raditi u životu.
Život svakog čoveka sastoji od različitih segmenata: porodica, posao, hobi, odmor. Veoma je važno održavati ravnotežu u svim pravcima. U suprotnom, za vas će to učiniti sam život.
Preporučujem vam jednostavnu, ali široko primenjivanu psihološku vežbu pomoću čijih rezultata ćete moći pronići u ono, što ste propustili.
Uzmite list papira i precrtajte (ili odštampajte) sliku koju vidite ispod: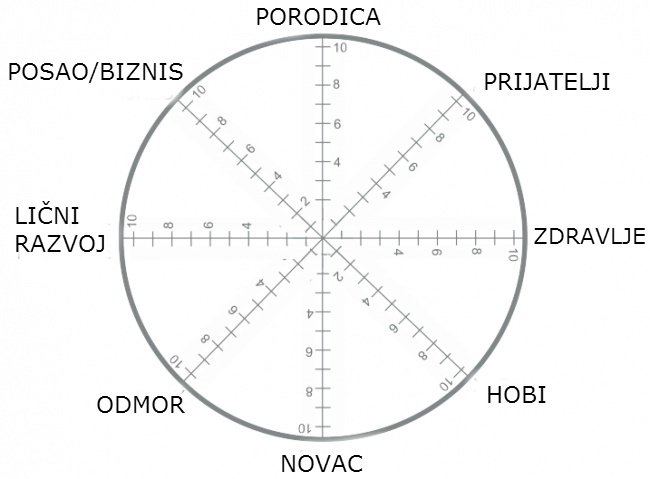 Procenite svoje uspehe za proteklu godinu, u svakoj oblasti na skali od 1 do 10. Nakon toga spojite tačke linijom po krugu.
Dobićete svoj personalni "točak života", a zajedno sa njim i razumevanje na šta lično treba pokloniti više pažnje, a na šta – manje.
Ne očajavajte ako kod vas ni u jednoj skali nema ocene 10 , i ako niste dobili krug, već neku kocku. To je tek početak vašeg boljeg života.
Radite ovu vežbu svaki mesec. Dobre rezultate nećete dugo čekati i "točak života" zavrtiće se mnogo brže.