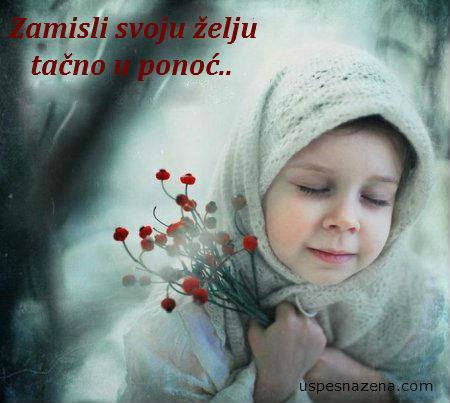 Prema narodnom predanju, u bogojavljenskoj noći, kada sat otkuca ponoć i za sobom ostavimo 18. januar i uđemo u naredni dan, otvara se nebo, a ko to opazi, te izrekne svoju želju, ali jednu, i to jasno i nedvosmisleno rečenu, istu će mu Bog uslišiti.
Bogojavljene je jedan od najvećih hrišćanskih praznika koji se kod crkava koje poštuju julijanski kalendar slavi 19. januara, a po gregorijanskoj tradiciji 6. januara. Ovim praznikom slavi se objava Boga čovečanstvu u ljudskom liku, odnosno u liku Isusa.
Prema hrišćanskom verovanju, Isus je do svoje 30. godine živeo sa svojom majkom Marijom i njenim mužem Josifom, i upravo je tada pozvao Jovana Krstitelja da ga krsti u reci Jordan.
Odmah po krštenju, koje je obavljeno porinjanjem u vodu tri puta uzastopce, nebo se otvorilo i začuo se glas Boga Oca koji je objavio da je Isus njegov sin. Upravo ovim krštenjem Isus je označio početak svoje misije.
U srpskom narodu, za Bogojavljenje se vezuju različiti običaji, ali i verovanja. Tako, verovalo se da je ukoliko je na taj dan jak mraz, onda će biti dobra godina. Ako je oblačno i pada sbeg, biće rodna godine, ukoliko je vedro – leto će biti izrazito sušno, dok kišno vreme najavljuje poplave tokom predstojeće godine.
Ipak, u moru različitih običaja i verovanja, jedno se izdvaja kao omiljeno, i koje će, čini se, najduže i opstati: na bogojavljensku noć sve je moguće!
Tako, u ponoć, između 18. i 19. januara, potrebno je gledati u noćno nebo i uhvatiti momenat kada se ono "otvara". Tada, svaka želja može biti ispunjena! Ali, potrebno je zamisliti samo jednu, precizno definisanu, i onda su čuda moguća!
Autor: T.I.