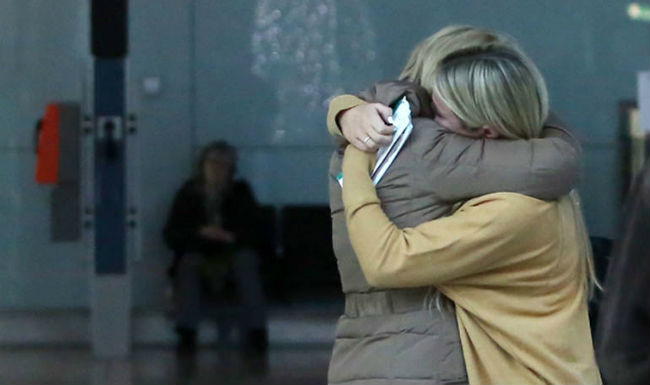 Nedavno sam imala priliku da priustvujem dirljivom rastanku na aerodromu. Majka i ćerka stajale su zagrljene, kada se začuo poziv da se svi putnici ukrcaju na avion.
Stojeći u blizini sigurnosnih vrata, zagrlile su se još jednom i majka je rekla: "Volim te i želim ti dovoljno", na šta je ćerka odgovorila: "Mama, naš zajednički život bio je više nego dovoljno. Tvoja ljubav je sve što mi je ikad trebalo. Želim ti takođe dovoljno, mama."
Poljubile su se i ćerka je otišla. Majka je prišla prozoru pored kojeg sam sedila. Stajala je tamo i izgledalo je kao da će svakog trenutka da zaplače. Iako sam želela da priđem i zagrlim je, mislila sam da je bolje da je pustim da bude sama sa sobom. Međutim, ta žena me je iznenadila pitanjem: "Jeste li ikad rekli zbogom nekome, znajući da bi to moglo biti zauvek?"
"Jesam," odgovorila sam. "Izvinite što pitam, ali zašto je ovo zbogom zauvek?"
"Stara sam, a ona živi veoma daleko. Očekuju me izazovi u budućnosti, a stvarnost je da će sledeći njen povratak biti zbog moje sahrane", rekla mi je baka.
"Kada ste govorile zbogom, čula sam da ste rekle 'Želim ti dovoljno.' Smem li da pitam šta to znači?"
Žena je počela da se smeje. "To je želja koja se prenosi mnogim generacijama. Moji roditelji su je govorili svakome…" Zastala je na trenutak i pogledala u vis kao da pokušava da se setiti svakog detalja. Zatim se još lepše osmehnula. "Kada bismo rekli 'Želim ti dovoljno', zaželeli bismo drugoj osobi život ispunjen sa taman onoliko dobrih stvari koliko možete lepo živeti i podneti sve nedaće." Nakon toga se okrenula prema meni i napamet izrecitovala:
"Želim ti dovoljno sunca da osvetli tvoje raspoloženje i svet.
Želim ti dovoljno kiše tako da možeš ceniti sunce još više.
Želim ti dovoljno sreće da održi tvoj duh živim i večnim.
Želim ti dovoljno boli tako da ti i najmanja zadovoljstva u životu izgledaju veća.
Želim ti dovoljno dobitka da zadovolji tvoje želje.
Želim ti dovoljno gubitaka tako da ceniš sve što poseduješ.
Želim ti dovoljno pozdrava koji će te dovesti do konačnog zbogom."
Žena je po završetku recitovanja počela da plače, okrenula se i otišla.
Kaže se da je potreban samo minut kako bismo pronašli posebnu osobu, jedan sat da počnemo da je cenimo, dan da je zavolimo; a nakon toga celi život da bismo je zaboravili..