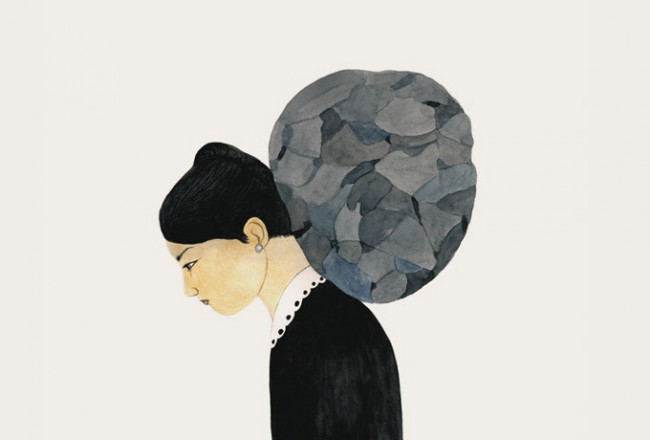 Pesmu treba otpevati. Razgovor dovršiti. Tugu preboleti. Žalost prežaliti. I tako sa svime.
Život je pun procesa i odnosa. U njemu je mnogo veza s nekim ili nečim. U svakom trenutku smo povezani s drugima, sa stvarima, sa samim sobom. Lako nam je da kažemo zbogom, ako nas kamen ne pritiska. I teško nam je da se oprostimo, ako taj kamen postoji.
A šta je kamen? Kamen je odsustvo logičnog završetka. Ili za nas pogrešan kraj. Ili nešto što nas tera da se u mislima vraćamo toj temi ili događaju, beskrajno promišljajući različite varijante. Zašto se to dešava?
Zbog lakomislenosti, neudubljivanja u ljude i odnose, zbog ravnodušnosti ili iz čiste gluposti. Ako ste se našli u vezi koju pritiska kamen, život počne da se zaustavlja jer se energija vrti u mestu – upravo tamo gde se kamen nalazi. Hoćete primere? Evo ih.
Muškarac i žena.
Muž i žena. Video ju je u prijatnom razgovoru s drugim muškarcem. Nije se usudio da priđe, ali je posle dugo razmišljao o tome i na kraju pitao ženu: Ko je to bio? Odgovor je bio čudan: Učinilo ti se. Zbog toga je postao vrlo uznemiren i zabrinut, a ona je i dalje insistirala da je to glupost. Nije mogao da spava, ni da jede. Osećao je nešto, ali to nije mogao da opiše rečima. Zašto se pojavio taj kamen koji ga je tako pritiskao?
Nedorečenost, nepoverenje, nepoštovanje osećanja – to je ono što je nastavilo da ga čvrsto drži u toj vezi. Koliko god se trudio, sve je zavisilo samo od njegove žene. Samo je ona mogla da ukloni taj kamen. A nije htela.
Dete.
Majka i dete. Dete se stalno žali da ga nešto boli. Majka mu govori da će proći, ali ne prolazi. Dete počne da vrišti. Majka mu prosto začepi usta. Dete je ispunjeno je emocijama i upravo je emocionalnom glađu, nedostatkom pažnje, toliko vezano za majku. Kamen će nestati ako majka obrati pažnju na potrebe deteta i ponudi izlaz. Do tada, kamen postoji.
Nastavnik i učenik.
Nastavnik uvek daje učeniku nisku ocenu. Kada učenik pokuša da sazna zašto, nastavnik ne odgovara ili samo kaže: Sedi! Zbog toga učenik razmišlja samo o tom predmetu i nastavniku. To ga pritiska kao kamen i on ga za sobom vuče kao Sizif.
U svim ovim situacijama je prisutna manipulacija. Jači je onaj od koga se očekuje. Drugi je uvek vezan. To suzbijanje s jedne strane često dovodi do frustracije, a zatim do agresivnosti s druge strane. Dok jedan kontroliše situaciju, drugi pokušava da savlada kontrolu i želi čovečnost.
To su primeri najjačih veza – odnosa zasnovanih na nerazumevanju, manipulaciji, podsticanju agresivnosti, kontrolisanju, odsustvu povratne veze.
Ako ste dospeli u sličnu situaciju i ne možete da se oslobodite takvog odnosa, morate da bežite. Bežite koliko vas noge nose jer vas takvo dvostruko vezivanje – obmana i manipulacija – mogu dovesti u šizofreno stanje.
Zato je o svim uznemirujućim pitanjima važno razgovarati. I oboje za to moraju da budu zainteresovani. Oboje! To je put za dvoje. Ako se samo jedan trudi, a drugi pretvara ili još gore, čak i ne pretvara, treba prekinuti. Uradite to na vreme! Ne teglite kamen.