Nikada nisam mogla shvatiti, zbog čega je snaja za sve kriva? Šta su vam učinila ta jadna deca pa da ih osuđujete za bilo kakvu sitnicu.
Uostalom ko ste zapravo vi da im sudite? Niko nema prava prigovoriti snaji bilo šta. Imate brate svog sina pa njemu držite lekcije. A ne tuđoj deci koja u većini slučajeva nisu kriva ni za šta.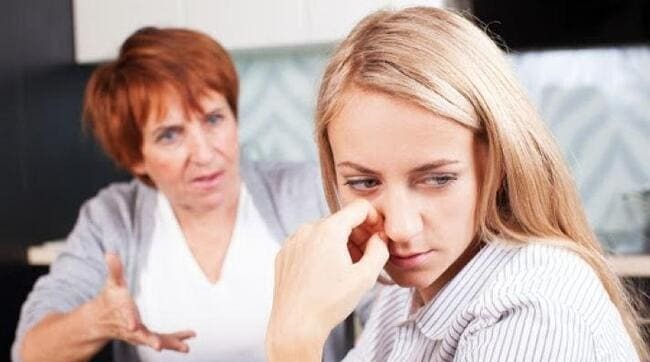 Većina nas žena se nije dobro provelo sa svojim svekrvama. Ali makar ako znas kako je tebi bilo, nemoj dozvoliti da i ti to isto priređuješ svojoj snaji. Ako već znaš kroz šta si sve prošla kucni se malo u mozak i razmisli. Ponekad se ugrizi za jezik pre nego nešto prokomentarišeš što ne bi trebalo.
Uvek sam bila za to da sakupljam i smirujem svoju decu. Nikada nisam sebi dozvoljavala da ja budem uzrok njihove svađe, a pogotov razvoda ne daj Bože. Snaju treba gledati kao i svoje dete. Jer morate shvatiti da ona živi sa vašim detetom.
Ne može meni snaja od komšije biti bolja nego moja. Kao što imam pred očima mnogo primera. Više cene komšijinu snaju što kod nje popije kafu. A ne ceni svoju koja joj spremi ručak, očisti kuću pospremi dvorište itd. Ponekad imam osećaj da svekrve razmišljaju na taj način da to snaha sve mora. Umesto da budu zahvalne, kao što bi svaka normalna osoba bila.
Bakini saveti za buduće svrekrve:
1. Snaha se mora poštovati
Ukoliko želiš da od nekog dobiješ poštovanje, prvo ga moraš dati toj osobi. Svaka osoba se treba poštovati, no snaha pogotovo. Jer je to bračna saputnica vašeg deteta.
2. Ne traži snahi mane
Ako je vaš sin prihvatio tu osobu sa svim manama i vrlinama. Zašto to ne bi ste i vi isto to uradili? Uostalom, ko ste vi da nekoga osuđujete. Pre nego nekome pronađes manu, kreni od sebe, pa razmisli da li si ti savršena?
3. Nemas pravo nikome soliti pamet
Ako si svekrva nisi Bogom dana. Odakle ti pravo da lečiš svoje živce na tuđem detetu. Kako bi vama bilo da neko to radi vašoj kćerki ?
4. Nemate pravo ponižavati snahu
Nemate pravo nikoga ponižavati a naročito ne snahu. Shvatite već jednom takvim postupkom možete samo naštetite braku vašeg deteta.
5. Ne mešaj se deci u brak
Većina svekrva su glavni krivci razvoda braka njihovih sinova. Ni u kakvom slučaju se ne bi ste trebali mešati u brak dve osobe. Samim tim možete im stvoriti samo probleme. Razmislite pre nego što bude kasno. Kako će te se osećati ukoliko nečiji brak pukne zbog vašeg bezobrazluka?
6. Shvati da ne poseduješ nikoga
Morate shvatiti već jednom. To što ste zamislili da posedujete vaše snahe, trebate izbiti sebi iz glave. Doćiće trenutak kada snajka ne bude raspoložena. Verujte da bi ste mogli veoma loše proći. Jer svaka osoba ima svoje granice pucanja.
7. Jos jedan savet snajkama
Nikad ne dozvolite da bilo ko upravlja vašim životom. Na vreme postavite svakog na mesto. Ako vidite da ljudi prelaze granice, bolje se pokupite i idite. Nego da naštetite svom zdravlju. "Bolje dobar razvod, nego loš brak".
Autor teksta: E.T