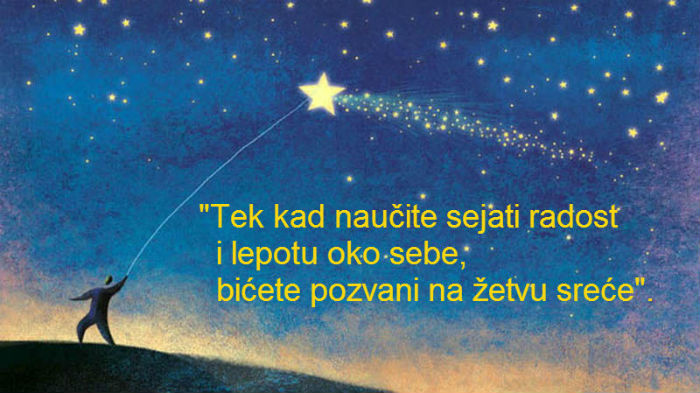 Jednoga dana videše deca nekog starca kako ide ulicom sa velikom korpom na ramenu, prepunom blistavih zvezda.
Laganim zamahom ruke on bi s vremena na vreme zagrabio iz korpe i zavitlao kao da seje. Tada bi mnogo prekrasnih zvezdica zalepršalo oko njega kao jato varnica.
– Šta to radite? – upitaše deca goreći od radoznalosti.
– Sejem sreću – odgovori čovek i mirno nastavi svoj posao dok su mu se među prstima caklili prekrasni dragulji iz kojih su se, u dečijim očima, razlivale tople dugine boje.
Osvojeni tom lepotom mališani smesta pojuriše da uhvate sreću, ali uzalud.
I oni najhitriji i najokretniji ostajali bi praznih ruku.
– Uzalud je to što činite – osvrnuo se tajanstveno starac. Tako je nikada nećete uloviti.
– Zašto? – upitaše začuđeno klinci.
Nasmešivši se, starac im odgovori:
– Tek kad naučite sejati radost i lepotu oko sebe, bićete pozvani na žetvu sreće.