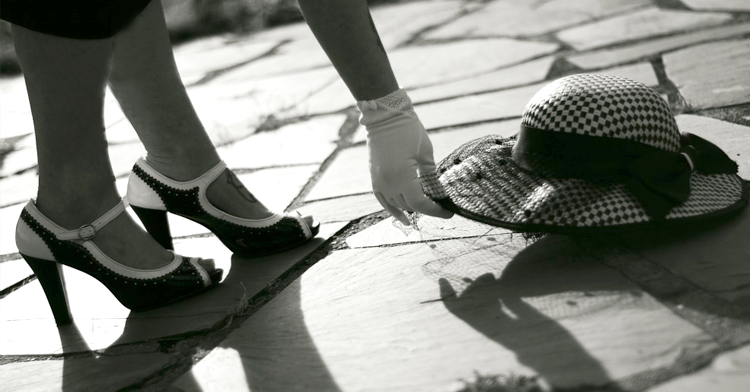 Moja prabaka ostala je udovica sa 27 godina, sama sa dve devojčice, maleni dečak joj je umro. Sa malim prihodima, teško su živeli. Kada su primanja mala, treba biti veoma, veoma štedljiv, štediti i mudro trošiti novac za vođenje domaćinstva. Ona je tako i radila. Tako je i živela.
A onda je videla u prodavnici te cipele.
Luksuzne, moderne, lakovane, sa  visokom potpeticom. I kupila ih je. Na nozi su joj stajale kao salivene, kao rukavice. Kad je došla kući uključila je gramofon i malo igrala: dve godine pre toga nije igrala.
Dve godine je vodila štedljiv život, preračunavajući svaku paru, nije imala baš veliku želju za životom. Tugovala je za mužem i dečakom. Cipele su bile veoma skupe, morala je da potroši sav novac. Sa užasom je mislila, kako će sa decom da preživi, šta će biti sutra.
Ništa loše nije se desilo.
Pozajmila je novac, polako ga otplaćivala, sipala sebi malo manje supe, kćerkama davala meso. Jela je hleb sa čajem – ali to joj nije bilo teško, jer je imala cipele sa štiklom!
U tim cipelama je otišla na zabavu sa prijateljima… upoznala zanimljivog muškarca, godinu dana kasnije udala se za njega i prilično srećno živela. Devojčice su bile obučene i site, i obe su stekle visoko obrazovanje.
Iako je bio rat i svakojaki užasi, ali cipele, sećanje na štikle – je trajalo, ono se održalo! To je bila njena najradosnija uspomena! I sa 90 godina, prabaka se sećala kupovine tih divnih cipela i smejala se, prepričavajući mi u detalje taj uzbudljivi momenat … inače se retko smejala: život joj je bio surov.
I evo šta ja mislim: kupi sebi šta ti duša traži. Čak i ako novca imaš veoma malo. Pozajmi malo, uštedi, odloži kupovinu televizora ili nameštaja, ili bilo čega.
I još nešto veoma važno. Neka kupovina može da spasi život i promeni sudbinu, mada se bez nje može – kao i bez cipela sa štiklom. Uprkos tome – kupi. I nešto će se dobro desiti. I poželećeš  živeti. I igrati uz muziku sa gramofona. I upoznati nekoga zanimljivog. A zatim praunuci sa 90 godina pričati o štiklama… I smejati se …