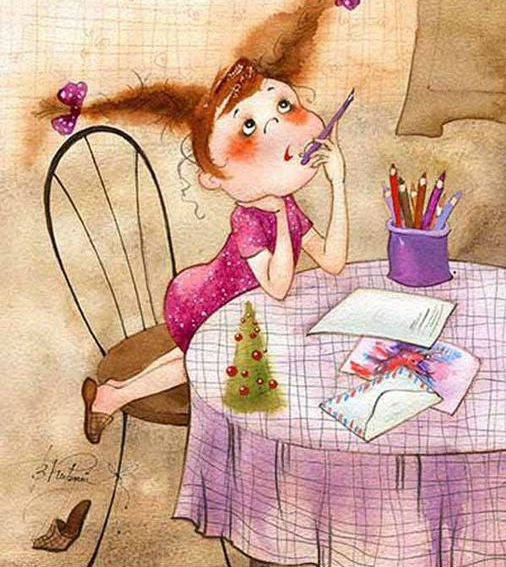 Kao prvo, da ti kažem… ove godine il' da me zaobiđeš u širokom luku ili da počneš da se ponašaš. Sve što sam do sada od tebe tražila – nisi mi doneo. Ni mladost, ni lepotu, ni pamet, a Boga mi ni zdravlje.
Džaba sam ti pisala, maštala, u noćima dozivala. Ili si gluv ili mnogo star pa nisi čuo. A nisam ti tražila ništa nemoguće i neostvarivo.
Mis'im… postaješ društveno neodgovoran. To što ti misliš da sam ja malo prerasla poklone, debelo si se zajeb'o. Pa ja poklone volim najviše na svetu, ali.. ne one koje mi ti šalješ, nego one koje ti zvanično naručim…
Nego ovako, vataj taj plajvaz, kad već ne čuješ i piši…
1. Hoću Maldive, 10 dana, alone… all inclusive.
2. Auto, nov, ispod čekića i da bude crven, da vuče na radost.
3. Hoću tašnu sa 165 pregrada, jer više ne mogu da se snađem u ovoj maloj. Šta god stavim u nju, misteriozno nestane. Pojavi se tek onda kad mi više ne treba. Kad se samo setim… onih 20 dinara u metalu sam tražila… mesecima.
4. Hoću da mi Eros Ramazzoti peva za Novu godinu, posle da me masira.
5. Hoću pončo. Vid'la sam jedan… prava sitnica 23.000. To što ima malo krzna… molim lepo! Zima je.
6. Želim da me u Novoj godini usvoji neki ruski tajkun, da mu budem omiljeno posvojče, pa da i meni kupi stan.. ne mora na Menhetnu, dobar je i u Beogradu! Penthaus, naravno (auuuuu ubiće me skromnost).
7. Hoću da imam zlatnu karticu kad već nemam zlatnu ribicu. Od ovih skalarki sam digla ruke. Nit zbore, nit romore, nit želje ispunjavaju, nit' su zlatne… a jedu, PUNO JEDU!
Ovo pišem pri zdravoj svesti i bistroj pameti.
I … nemoj da poludim, nemoj BRE da poludim, pa da vidiš šta sve hoću!
P.S. Mir u svetu, više hrane, bolji život i ostale pič*e materine ostavljam za missice. Nemam ja vremena da se bakćem trivijalnostima. To ti pričam.
Ajd' u zdravlje i na slavlje!!!