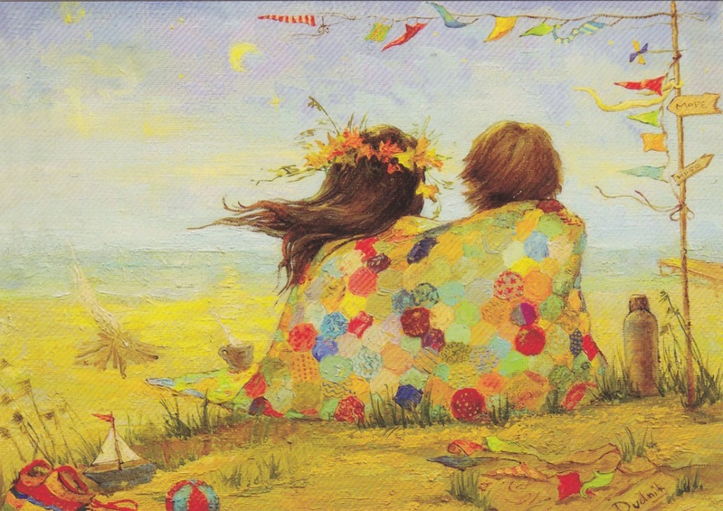 Shvatila sam nešto što sam nekako oduvek znala ali nikad nije došlo na red da se o tome razmišlja, da se uzme u obzir, da se prihvati kao životna činjenica. Ljudi bi ljudima trebalo da su najvažniji. Na ljude bi ljudi morali da obraćaju najviše pažnje.
Život teče kao najbrža reka i često nas zaslepi konstantnim problemima, nedoumica, preprekama, tako da nismo u stanju da obratimo pažnju na najvažnije elemente življenja, a to su ljubav, razumevanje, saosećanje, pomaganje. Nema ništa važnije od toga.
Sve ostalo dođe i prođe. Škola, posao, krediti, šopinzi, uspesi, padovi… Ništa to nema smisla ako se sa nekim ne podeli i kad je dobro i kad nije. Ništa to nema vrednost ako nismo okruženi dobrim, kvalitetnim ljudima koji po vremenskoj liniji sa nama koračaju rame uz rame.
Svaki put kad mi život udeli loše karte, boreći se da ih iskoristim na najbolji mogući način i da se iz problema iskobeljam i opet ugledam svetlost na kraju tunela, shvatim da, ne da nisam sama, nego da sam  okružena iskrenim, dobrodušnim, prijateljima koji, i kad se pije i kad se pati stoje nepokoljebljivo uz mene i traže načina da mi budu oslonac, kao uostalom što i sama činim za njih.
Ne morate mi verovati na reč, nego, ako već niste, probajte i sami. Cenite iskrene, dobrodušne, osećajne ljude. Volite ljude koji će pustiti suzu saosećajući sa vašim bolom.
Negujte prave vrednosti, poput poštenja, istrajnosti, samilosti, ljubaznosti, strpljenja, trpeljivosti. Ono što iskreno volimo uvek nađe put do naše stvarnosti.
Ovakvi ljudi možda neće voziti besne automobile i imati hiljade evra vrednosti garderobe na sebi. Možda neće imati veze i vezice koje bi vam pomogle da se vinete visoko na lestvici uspeha ili da vas ubace u stranku ili da vam nađu posao.
Ovi ljudi izgledaju sasvim obično, neupadljivo, skromno. I možda od njih nećete imati puno "koristi", ali ovi ljudi pokazaće vam šta znači istinski živeti, voleti, osećati. Pokazaće vam šta znati postojati kao čovek. Ima li išta važnije od toga?