Ne znate kako da organizujete svoj novac i kako da ga pravilno trošite? Ovaj savet će vam pomoći da uštedite sebi vreme, a i novac.
Korišćenje tegli za novac jedan je od najefikasnijih načina za upravljanje ličnog i porodičnog budžeta.
Sve što treba da uradite je da podelite novac koji planirate da uštedite u budućnosti u šest tegli i svaka tegla će biti odgovorna za jednu sferu vašeg života.
Ako budete pratili ovaj savet, više nikada nećete potrošiti više novca nego što ste planirali i vaši prihodi će biti mudro organizovani.
Evo kako to da uradite: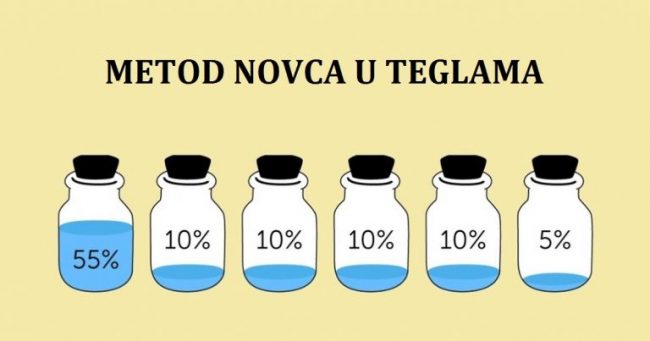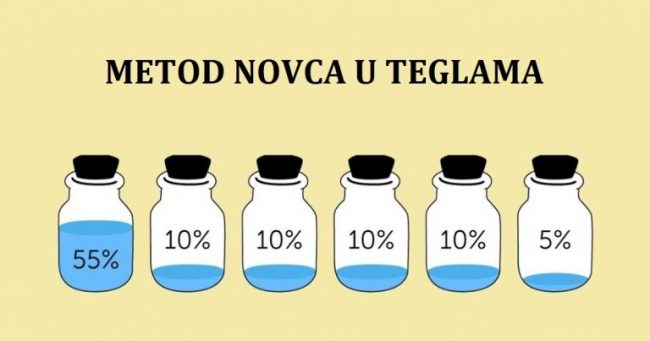 1. Prva tegla (55%) je namenjena za svakodnevne potrebe pokrivanja dnevnih troškova kao što je prevoz, računi i hrana.
2. Druga tegla (10%) je za kupovinu "radi zabave" i ne svrstava se u redovnu kupovinu. Ovo podrazumeva novac za neko skuplje vino ili možda odmor, kako god želite.
3. Treća tegla (10%) je za investiranje i stvaranje pasivnih izvora prihoda. Ovo uštedite kada budete imali potpunu finansijsku slobodu.
4. Četvrta tegla (10%) ima za cilj da unapredi vaše obrazovanje i lični razvoj. Ulaganje je odličan način raspodele novca i to vam je najvažniji resurs. Koristite ovaj novac da kupite knjige ili da platite kurseve.
5. Peta tegla (10%) može se koristiti za velike kupovine, kao što je na primer televizor, godišnje članstvo u teretani ili auto. Ovo je vaš rezervni fond koji stalno treba puniti.
6. Šesta tegla (5%) je za poklone za rođendane, svadbe i druge proslave. Takođe možete donirati novac za udruženja za borbu protiv raka, azile ili u dobrotvorne svrhe ljudima.
Vrlo jednostavno, zar ne? Obeležite svoje tegle po želji i uštedite novac već danas!