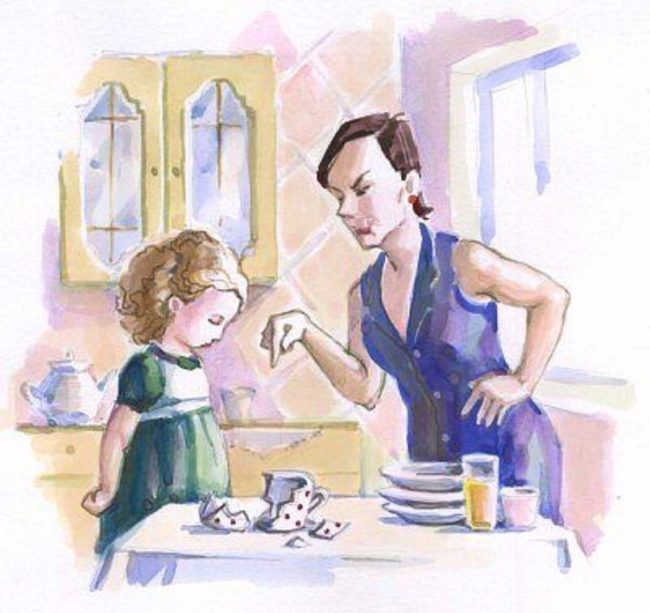 Jednom sam jela čorbu i kap je pala na belu majicu. "O, kakva sam krmača.." pomislih. Ali odmah, u istom trenutku sam oprostila sebi. Morate sebi oprostiti svoje greške. Zar ne?
Jednom davno moj sin je jeo supu i ispolivao svoju čistu košulju. "Pokušaj da jedeš pažljivije! ", proderala sam se na njega. Zaista sam želela da budem savršena.
Onda sam donela zanimljivu odluku. Pokušaću da delim sebi prekore u toku dana. One, koje automatski izleću iz usta nas odraslih u pravcu deteta.
Ujutro sam ušla u kuhinju i ugledala u sudoperi šolju koja nije bila oprana od sinoć.
Da li ti je bilo teško da je opereš? – zvonilo je u uhu. – Moraš da naučiš da budeš disciplinovana. Ili ništa razumno od tebe neće postati.
– Brrr… – Odmahnula je glavom. "Razumno". Ništa razumno nije postalo? Razumno – kad si u stabilnoj vezi, u dobrim odnosima, na dobrom poslu…  A ja sam samo kamen koji se kotrlja.
Počela sam da obuvam cipele, spremajući se da izađem.
– Ne gazi cipele! Pažljivo se obuvaj. I ustvari, treba koristiti kašiku za cipele. Ne znaš gde je? Kako ne znaš? Uvek si u haosu. Da, da, upotrebi prst da obuješ cipele, to najbolje što umeš. Zato I nemaš nikad lep manikir.
Raspoloženje je počelo da opada. Ovi komentari su jetki – baš kao kiselina.
Idem ulicom, ptice pevaju, lepota, šutnula sam kamenčić.
– Ogrebaćeš nove cipele! Neću da radim samo za tvoju obuću!
Već kod kuće, spremajući večeru, otvorila sam ormarić iznad glave da uzmem tanjir. Otvorila. I zaboravila da ga zatvorim, I lupila glavom svom snagom o ćošak!
U očima zvezdice. Glava me boli. I u ušima zvoni:
– Rekla sam ti! Koliko puta moram da ti kažem – zatvaraj vrata!
Onda sam sela i rastužila se. A u ušima čujem:
– Šta sediš, gospodice? Nemaš šta da radiš po kući?
A onda.. onda je postalo loše do suza. Jer je nerealno živeti pod nadzorom takvog glasa. Nemoguće je.
A kada je ovaj glas – tvoja majka?
Od tada sa sinom šutiramo kamenčiće kad šetamo ulicom. Smejemo se. I ne marimo za cipele!
Kad je tužan, uvek ga zagrlim. Na kraju krajeva, to je bolje od reči. Uopšte, bolje od bilo koje reči.
Volite i grlite sebe i svoju decu.
Oslobodite se ružnih komentara. Neka uspomena na detinjstvo ostane savijene pete na obući, fleke od ukusne supe, smeh i samopouzdanje – tebe vole I prihvataju takvim kakav jesi.
Dan kada svom detetu prestala da govorim "Hajde požuri!"