Verovali ili ne, banane imaju mnogo zdravstvenih koristi koje vam mogu poboljšati život.
Vaša svakodnevna ishrana mora da sadrži neko voće, a ako već možete da birate, naš savet su banane. Ovo slatko topsko voće ima odličan ukus, nije mnogo skupo i u malim količinama vam može pružiti mnogo toga.
Jedna studija je otkrila da dve banane mogu vas snabdeti sa dovoljno energije, za čak 90 minuta napornog vežbanja. To je razlog zašto su banane omiljeno voće brojnih sportista. Takođe, istraživanja su pokazala da su samo dve banane dovoljne da vam znatno poboljšaju organizam i da učine da se osećate bolje i zdravije.
Da li ste znali, da u odnosu na jabuku, banana sadrži: tri puta više fosfora, dvostruko više ugljenih hidrata, pet puta više vitamina A i gvožđa, četiri puta više proteina, dva puta više ostalih vitamina i minerala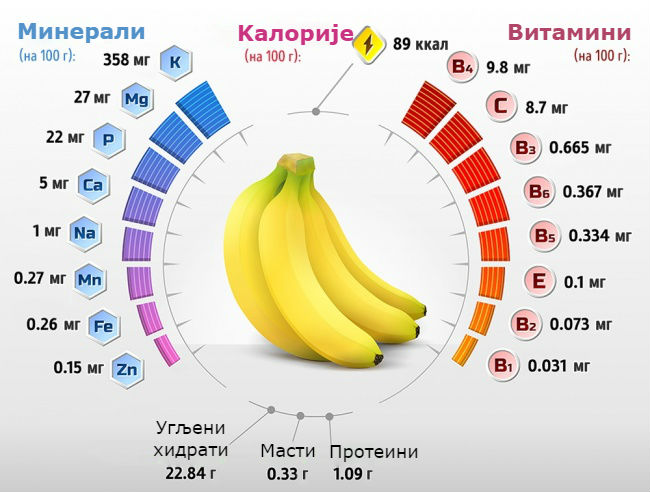 Ako budete jeli dve banane svaki dan, ptimetićete sledeće:
1. Krvni pritisak će vam se normalizovati
Banane su odlične za smanjivanje krvnog pritiska jer u jednoj banani ima oko 420 mg kalijuma.
2. Višak kilograma nestaje
Banane smanjuju apetit i postiču organizam na mršavljenje, pa ako držite bilo kakvu dijetu, dobro je da u svoju ishranu ubacite i dve banane na dnevnom nivou. U tom smislu biće korisna Jutarnja banana dijeta.
3. Smanjuje se rizik od anemije
Anemija može dovesti do malokrvnosti, umora i zadihanosti. Banane sadrže veliki procenat gvožđa koji povećavaju nivo hemglobina u vašem organizumu, pa se na taj način kiseonik bolje distribuira kroz vaše telo.
4. Poboljšava se varenje
Verovatno ste sto puta čuli kada vam neko kaže "pojedi bananu ako te boli stomak". To je tačno, jer banane zaista poboljšavaju varenje i digestiju.
5.Gorušica
Banane sadrže antacid koji može da vam pomognu kod problema sa gorušicom. Dovoljna je samo jedna banana da umiri simptome gorušice u trenutku!
6. Manji nivo stresa
Istraživanja su pokazala da banane pozitivno utiču na raspoloženje. One sadrže triptofan, koji tera mozak da luči serotonin, koji se još naziva i hormonom sreće.
7. Vaš organizam će imati više energije
Kalijum u bananama štiti vaše mišiće od grčeva i daje im snagu, pa ćete zbog banana imati više snage i energije.
Čitajte još: Jutarnja banana dijeta: 5 kg manje za dve nedelje – to je realno!